How To Complete KYC In PhonePe
Last Updated : Sep 1, 2022
IN - PhonePe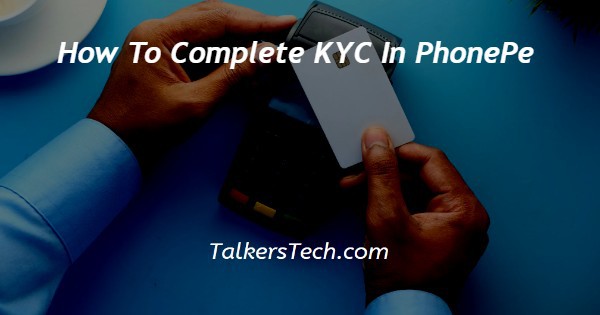 In this article we will show you how to complete KYC in PhonePe, it is very important to complete KYC in order to get the best out of the digital wallet. KYC is important to add more money in the wallet.
Completing the KYC requires submission of Official Document Such as an Aadhar card, driving license or PAN card.
In case you are looking for a solution on how to complete KYC in PhonePe this is the right article for you just follow the steps given below in order to complete KYC in PhonePe
Step By Step Guide On How To Complete KYC In PhonePe :-
On Android Device
Open Google Play Store on your Android device.
In the search bar you need to type PhonePe.
Now click on the option to install in order to download this application on your Android device.
Once the application is successfully installed, click open to proceed further.
Assuming you have already created your account in PhonePe you just need to enter your mobile number and four-digit password to login.
After successfully login into your account you need to click your profile icon placed at the top left corner of the home tab.
In the profile section you will see various options such as my QR code, my Bhim upi ID, my addresses, my language, bill notifications, change password, enable Screen Lock, block contact and policies.
Now you need to scroll down the profile page and look for the option- KYC details.
It will ask you to complete your KYC by clicking the option verify.
On the next screen it will show you the full wallet benefits you will get if you complete your KYC.
Now click the option complete KYC placed at the bottom of the screen.
Complete the KYC page will appear on your screen with will ask you to show your documents.
In PhonePe you can select documents by clicking the downward arrow.
The list of documents include driving licence, Nrega job card number, PAN card, passport, voter ID card.
For example in this article we are selecting the option PAN card for completing KYC in PhonePe.'
On the next screen it will ask you to enter the PAN card number and the pan holder name.
Once you enter these details click the option verify.
On the next screen it will show you that your basic details are successfully updated and verified.
Conclusion :-
In this article we covered an essential guide on how you can complete KYC in PhonePe on your Android device by using its official application.
I hope this article on how to complete KYC in PhonePe helps you and the steps and mentioned above are easy to follow and implement.