How To Clear Cache In OnePlus 5
🕐 1 Jul 23
Oneplus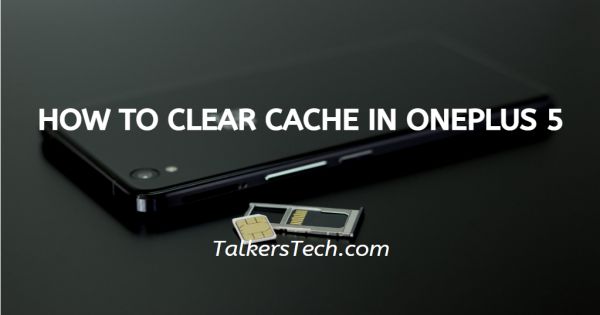 In this article we will show you how to clear cache in OnePlus 5, cache is a memory bank that is a storage location reserved for temporary data collected from browsers and websites. Its main object is to make sure the applications in your mobile phone load faster.
To put it in simple words, cache locally accesses the data instead of re-downloading every time you open an app or a website.

In this article, we will discuss how cache can be cleared from your OnePlus 5 mobile phone.

There are two ways in which you can clear the cache. The first one is to do it manually.

Follow the steps below for the same:-
Step By Step Guide On How To Clear Cache In OnePlus 5 :-
Open your mobile phone using the security key or swiping across the screen. Open the App drawer or tray by swiping up on the home screen of your mobile phone. Scroll down the list of apps, you will find the Settings app, click on it to open it.

You will now be able to see a menu of options to choose from. Select the 'App and Notifications'.
The next page which will contain all the apps in your device and functions related to them. Press on the 'See all apps' option.

From the list of apps on your phone, select the one whose cache you wish to clear.
A new window will appear on your screen named 'App Info'. From the list on your screen, choose the option 'Storage and cache'.

On the next page, click on the 'CLEAR CACHE' option located below the dustbin icon. This will clear the cache on your phone.

Alternatively, you can also clear the cache by a long-press on the icon of the app.
This will open a list with various options. Click on the 'App Info' option. This will bring you to the 'App Info' page and select the option 'Storage and cache'. Now press on the 'CLEAR CACHE' option and you'll see the cache being cleared.
Another way you can clear the cache from your phone is by using apps made for this purpose.

Follow the steps below in order to get rid of excess storage. This is a faster and one- click method to clear the cache in your OnePlus mobile device.

There are various apps that do a wonderful job and are user-friendly. Some of these are listed below-
CCleaner app
1Tap Cleaner
All-in-One Toolbox
Conclusion :-
Out of the two methods explained in the article, the second is mostly preferred due to reasons of convenience, ease and speed as compared to the manual method which although is uncomplicated, but is cumbersome to do. I hope this article on how to clear cache in OnePlus 5 helps you.