How To Check Zomato Level
🕐 25 May 23
Zomato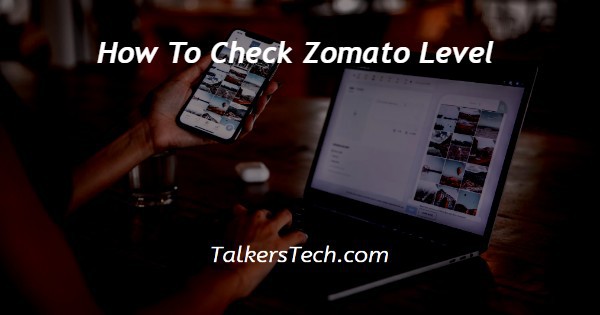 In this article we will show you the solution of how to check Zomato level, It was initially known as FoodieBay before being renamed Zomato in 2010. It offers services including online ordering, table reservations, and management in addition to information about neighbouring restaurants.
80 million foodies use Zomato each month in 10,000 cities across 36 countries, serving 1.2 million popular eateries.
It includes 10 distinct language options, 10 million reviews, and 18 million bookmarked pages. It provides a platform for restaurant owners to deliver a lot of customers fantastic food.
On the restaurant page, you now have access to two ratings that show how customers felt about the restaurant's meal ordering and dining experiences.
Our app maintains the black and red colour pattern for simple identification.
The ratings will be based on the context, so if you are looking at restaurants to place an order, you only see the delivery rating, which is denoted by a red star, and if you are looking at restaurants to eat out, you only see the dining rating, which is denoted by a black star.
Step By Step Guide On How To Check Zomato Level :-
Many restaurants provide free food to Zomato reviewers who are performing well.
I'm serious! We are truthful. Reviewers are contacted by restaurants' PR departments or agencies on a barter basis (or occasionally for payment) and asked to write about their meal.
Zomato reviewers, who identify as food bloggers, receive free meals while providing feedback on local eateries.
Simply register for a Zomato account. To access the profile section, you must first create an account. Simply click the Add Review button, then describe the food and the atmosphere of the restaurant in your review. You are at Level 1 when you begin reviewing. The highest level a reviewer may achieve is 13. (Also called Connoisseur)
For each review, image, and blog post, Zomato has allotted a certain number of points. You will eventually advance levels the more your review and share photographs and earn points. It will take time, but it is possible to progress through Level 1 to Level 13, the level of the expert.
What are you waiting for? Go register for an account at Zomato and start climbing the ranks.
The basic principle of food blogging is that "Ghar Ka Khana" must be say goodbye. You probably already consume outside meals frequently, which is why you want to write reviews. Here are some essential guidelines for writing quality meal reviews.
For restaurant evaluations, a minimum of 140 characters must be utilised in order to retain the quality & usefulness for the consumers. The Zomato staff will delete your comment if it contains trash.
Conclusion :-
This article deals with the information on how to check Zomato level and additional information on Zomato levels.
Customers now choose to order from the restaurants with good Zomato ratings even though there are many eateries listed on the website.
The explanation is straightforward: eateries with high ratings offer better meals and have happier patrons.
I hope this article on how to check Zomato level helps you and the steps and method mentioned above are easy to follow and implement.