How to check WhatsApp call history of others
🕐 1 Jul 23
Whatsapp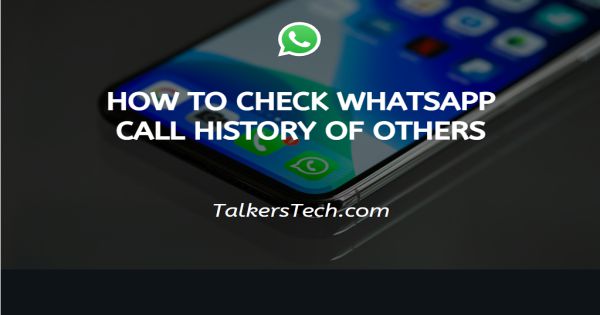 In this article we will show you how to check WhatsApp call history of others, WhatsApp has become the most popular messaging app across the world, it provides you many interesting features along with receiving and send facilities also include here, if you want to send any media file and documents so WhatsApp make it very easy.
Apart from that you can also make voice and videos calls by using this app and add more the six people for video calling, but if you want to record voice and video calls so you can't do this because privacy policies of WhatsApp doesn't allow this but if you really want to check WhatsApp call history so you are in right place.

Many people make personal or business calls by using WhatsApp app. Even many parents are also worry about their children who are talking on WhatsApp all time, many people are calling one another by using WhatsApp app because of safety reason, but sometimes it not good because if someone is calling you on WhatsApp so that time you need to record his call history on your phone but you couldn't. So don't worry here we will tell you the best trick how you come out this problem.
How can you get WhatsApp call history?
If you really want to know how to check WhatsApp call history of others, so you need to get third-party app it is a "KidsGuard", by using this app you can easily get all the call history of others, it's an advanced and reliable tool to access someone's call history without ant detection. Even it is able to upload all the WhatsApp data to your control panel from where you can know exactly who they are talking to and what they are talking about. So let's begin the step-by step process which is given below:
First you have to download "KidsGuard" for WhatsApp app from www.installapk.net on the target android device.

After that, click the monitor button to create a "kidsguard "-account.
Then you will have to purchase a WhatsApp monitoring plan to active all the features.
After installing, it will disappear from home screen. Then you have to go back to your web dashboard and view all the collected WhatsApp data.
Then click on the "my product" option, inside this option you will see the list of all incoming, outgoing and missed video/voice call history options, you have to just click on the "WhatsApp call".
You can also filter the calls by date or search an exact caller name for easy viewing.
After that you have to click on the "call recording" option which is left side in the list, and get all video/voice call history or download it on your own device.
Conclusion :-
Now, you finally you can get WhatsApp call history of others by using "KidsGuard" for WhatsApp app, apart from that there are many options to do this but by using "KisaGuard" app is the best of others app. Hope this article on how to check WhatsApp call history of others helps you and you will be understood this trick easily.