How To Check Screen Time On Redmi
🕐 1 Jan 23
Redmi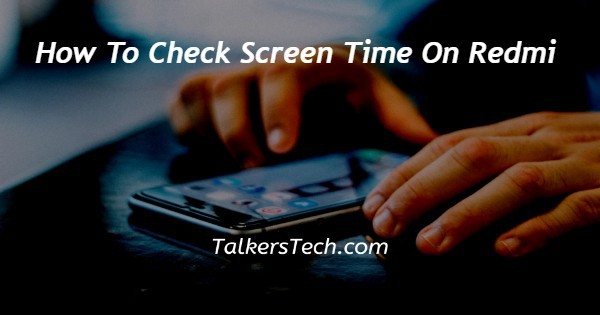 In this article we will show you the solution of how to check screen time on Redmi, screen time is an outstanding feature of MIUI that is great for monitoring the amount of time a person uses a cellphone, similar to Google's Digital Wellbeing or iOS Screen Time.
Xiaomi smartphone users can examine device and app usage data, set a time limit, or activate focus-enhancing settings by using this function. A pioneer of features for digital health is Digital well-being.
It also contains a number of intriguing features for managing mobile phone usage.
In case you are looking for a solution on how to check screen time on Redmi this is the right article for you just follow the steps given below in order to check screen time on Redmi.
Step By Step Guide On How To Check Screen Time On Redmi :-
Open settings on your Redmi Note 8.
You can easily open the settings with the help of application menu.
Once you open the settings it will show you various options available for Redmi Note 8.
These options are all about phone, System app updater, Wi-Fi, hotspot, password and security, display, lock screen, notifications, accessibility, special features,Digital wellbeing and parental controls, MI account and others.
Scroll down to search for the option digital wellbeing and parental controls.
On the digital wellbeing window you will be able to see a pie chart with include all the application along with the screen time it is utilising on Redmi.
In the middle of the pie chart it will show you the total screen time used today on your Redmi device.
It will show you all the applications that consumes most of the screen time with different color.
To know more detail about this application tap any of the applications from the pie chart.
For example in this article we have selected to check the screen time for Instagram.
As you can see in the picture given below it will show you the total hours and minutes of screen time on the Redmi device.
You can also check the screen time for the application based on the date.
It will display use the information of the screen time used in the form of a bar graph that you can easily search as per the date and day.
you can also check the screen time hourly or daily basis.
Apart from checking screen time on Redmi you can also manage the notification or set the timer for the different applications in order to keep control on screen time.
Conclusion :-
In this article we cover the essential guide on how you can check screen time on Redmi using digital well-being.
This Google-owned digital health service also includes a Dashboard, which can be used to set a timer for each application, Bedtime mode, and Focus mode.
I hope this article on how to check screen time on Redmi helps you and the steps and method mentioned above are easy to follow and implement.