How To Check Paytm History
🕐 1 Jul 23
Paytm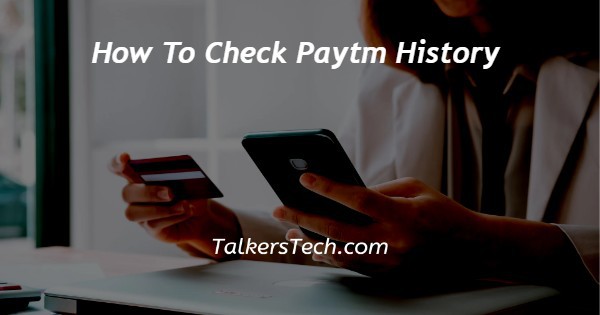 In this article we will show you the solution of how to check Paytm history, it is important to keep a tab on the number of transactions you are making within an online Paytm application such as Paytm.
Users can easily make transactions using the Paytm wallet as well as the linked bank account.
All these types of transactions are recorded under balance and history where you can easily know how much money is spent and where.
The application available for Android and IOS users provides a feature called balance and history to which users can easily keep attacks and check their Paytm history.
In case you are looking for a solution on how to check Paytm history if this is the right article for you just follow the steps given below in order to check Paytm history.
Step By Step Guide On How To Check Paytm History :-
Open Google Play Store on your Android device.
In the search bar type Paytm
Now you need to install this application on your device.
Once installed successfully you need to enter your login details to proceed further.
After successfully login into your account, you will see the home page in front of you.
The home page will provide you with several distinct option and services that Paytm offer.
You need to click on the search placed at the top right corner of the Paytm homepage.
In the search bar, you need to type balance and history.
Now click on this option to proceed further in order to check your transaction history in Paytm.
Once you click this option you will be redirected to another screen on which you will see the list of all the transactions that you have made using your Paytm account.
In this way, you can easily keep a tab about the payments whether they are carried out successfully or not.
Conclusion :-
In this article, we covered an essential guide on how to check Paytm history on an android device and you can now easily keep a tab on the transactions made in your Paytm account.
I hope this article on how to check Paytm history helps you and the steps and method mentioned above are easy to follow and implement.