How To Check Number In Truecaller
🕐 1 Jul 23
Truecaller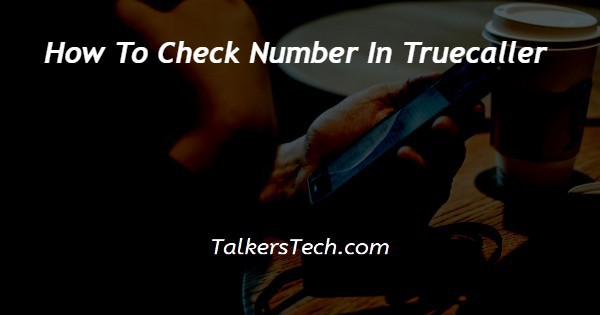 In this article we will show you how to check number in Truecaller, It is very important to verify the number in order to know the name of the person whose number is constantly appearing on your mobile phone or if the phone number on a board is legit or not.
In Truecaller you Can easily identify the number with the help of a search bar.
Truecaller provides up-to-date contact information for the number searching for the number search procedure for the people and business that you wish to verify.
However, whenever a user dialogue receives a call from a specific number which is not saved in your contact list, Truecaller immediately provides an automatic search to give you the name and other details of that specific number.
In case you are looking for a solution on how to check numbers in Truecaller this is the right article for you just Follow the steps given below in order to check the number in Truecaller.
Step By Step Guide On How To Check Number In Truecaller :-
In case you do not have this application on your Android device you need to first install it using the Play Store.
Now you need to sign in to the Truecaller application. This application give you the options to do the login procedure with the help of Google account, Facebook account and Yahoo.
After entering your mobile number it also sends an SMS in order to verify your number.
Now in the search field you need to enter the phone number for which you want to check the details.
Enter the number in the search field and the application will automatically detect your country as well as the country code.
If the country code is wrong by any chance you can easily choose the country code from the dropdownlist in the Truecaller application.
Truecaller application will look at the database and will Display all the necessary details regarding the number that you have entered in the search bar.
It gives information about the name address country of the caller.
Conclusion :-
I hope this article on how to check number in Truecaller helps you and In this article we covered an essential guide on how you can check numbers in Truecaller on an Android device.
The steps mentioned above are quite detailed and easy to follow and now you can easily detect unwanted calls and other important business calls for verification.
The Truecaller application automatically filters its database in order to check the number when it does not find a match in your contact list.
This application also provides the feature of searching for the phone number online with the help of other platforms such as Google Facebook Twitter.