How To Check Net Balance In Airtel
Last Updated : May 17, 2022
IN - Airtel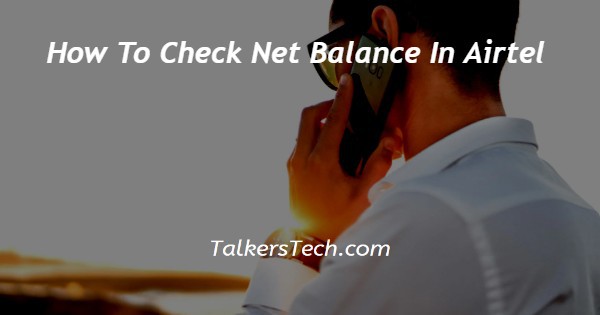 In this article we will show you how to check net balance in airtel, if You are an Airtel customer there are few methods to check your data balance.
One of the simplest methods to check all the details about your net balance is to simply install the Airtel thanks application on your smartphone.
Another method includes visiting the official website of Airtel for using the USSD codes.
In case you are looking for a solution on how to check data balance in Airtel then this is the right article for you.
Step By Step Guide On How To Check Net Balance In Airtel :-
Method 1 - Using The USSD Code
The US and the codes which means unstructured supplementary service data are very fast for feature codes that get in contact with the mobile network operators for various purposes such as to check the balance validity and other.
In order to check the Airtel data balance you just need to open the dialer on your Android device.
In your dialer dial *121# This USSD code is exclusive for the prepaid customers.
A prompt box will appear on your screen.
The carrier information will show your Number along with various options such as change of language, balance, new offers, my offer, my account info, recharge, other services, DTH, payment bank and next.
Click the option balance by entering 2 in the text field.
On the next screen you will see a few more options such as current pack info, upcoming pack info and others.
Enter one in the text field and press send.
On the next screen you will see your mobile number, along with outgoing validity, the details of the current plan.
At the bottom of this you will see the amount of MB left from the pack.
In this way you can easily check your net balance in Airtel by using the given USSD code in your smartphone.
Method 2 - Using The Airtel Thanks Application
Download the application from the Play Store.
You need To enter your mobile number to login.
After entering the OTP you will see a net balance left in the manage tab.
The top box will show you the preferred option along with your numbers and the daily data left, validity and other details.
Conclusion :-
I hope this article on how to check net balance in airtel helps you and in this article we covered an essential guide on how you can check net balance in Airtel using USSD code on your Android device.
The steps mentioned above are quite detailed and easy to follow and now you can easily check your net balance so that you are ready to make sure you recharge your Airtel number before the pack or the current plan expires.