How To Check Graphic Card Memory In Windows 10
Last Updated : Jun 15, 2021
IN - Windows 10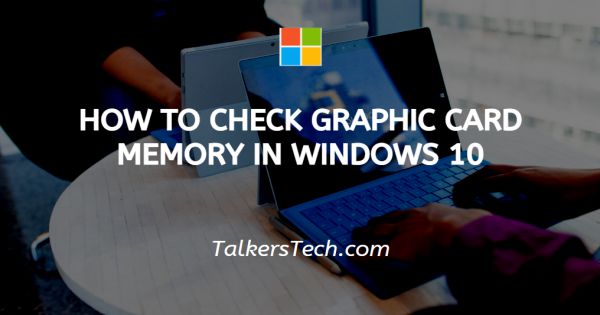 In this article we will show you how to check graphic card memory in windows 10, whenever you're exploring the Microsoft Windows 10 computer whether operating an application, or playing the game graphic card is a critical element that enables you to represent every pixel you see on the screen.
Typically, devices are equipped with a graphics card from one of the three major manufacturing companies: NVIDIA, AMD, or Intel. There are plenty of choices in today's list of the best graphics cards.

While you don't need to think about the graphics requirements on your computer if you're a casual user, it might be necessary for users who work with applications or play games that require a good quality graphic card.

Normally, since a program cannot be able to run properly if you're not using a card with an efficient graphics processing unit.

Also In case you know that you love to play games on your PC and you are a player, you might not be able to play games but still if you can the quality of the pixels will not be great and you won't be able to enjoy it at all.

Then you might need to figure out what hardware you have and change the settings accordingly to avoid performance issues.

For all the purpose and for all your desires, your PC's Windows 10 will provide you a number of options for easily obtaining graphics card specifications, including Settings.

You can also access the details about your graphics card using system information.

To find out the graphics card manufacturer and model using the Settings app, use these steps:
Step By Step Guide On How To Check Graphic Card Memory In Windows 10 :-
Method 1
Open Settings.

Click on System.

Click on Display.
Under this section, click the Advanced display settings option.

There you can confirm the graphics card vendor and model.
Method 2
You can also find out graphics card details using System Information
Open Start.

Search for System Information and click the top result to open the tool.
Expand the Components branch.
Click on Display. Then you will see the following screen.
Conclusion :-
A GPU also identified as a video card, graphics card, or graphics adapter, is computer hardware. It is in charge of creating all of the text and images that appear on your phone.

Every processor nowadays comes with an onboard graphics card. Graphics cards in your PC manage everything from beautifying your desktop to watching videos in a good pixel and it will also let you play PC/laptop games.

You can search the Graphics Card Information in Windows 10 by using any of the methods mentioned above so, I hope this article on how to check graphic card memory in windows 10 helps you.