How To Check Google Search History
🕐 1 Jul 23
Google Search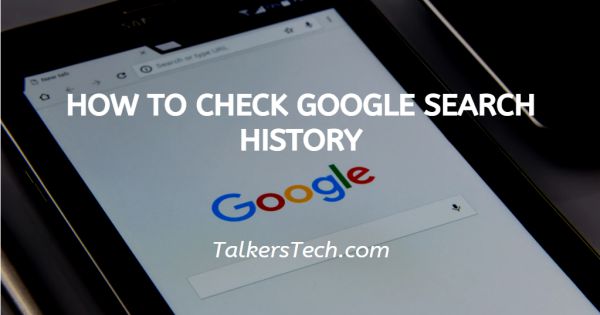 In this article we will show you how to check google search history in Google, you can easily find all the websites and links that you have recently opened. Sometimes a user prefers to look for a web page or website for one more time.
Here, checking Google search history is the best option available for the user. Users can use the history feature to search any web page they have to exploded or revisited.

You know that you can easily access your Google account history anytime and from any device until your Gmail profile is sent on all the devices.

Google maintains a detailed history of web and product searches was a video app used by you. This means you can see your Google search history with your Google account from any device including Windows Mac mobile phone or Tablet.

The procedure of checking Google search history is very simple as you only need your username and password.
Step By Step Guide On How To Check Google Search History :-
Open Browser on your system and launch the Google homepage.
Tap the sign-in option placed at the top right corner of the page in case you are not logged in to your account.
In case you are not logged into your account simply enter your valid email id along with your password.
After successfully signing in to your account click the Google app icon placed at the top right corner of the Google homepage. A square mosaic that comprises 9 small squares represents the icon.
In the drop-down menu, you will see your account along with various Google Apps named Gmail, drive, docs, sheets, slides, calendar, meet, contacts, and others.
Tap your account.

The left panel of the Google account homepage will show options names home, personal info, data and privacy, security, people and sharing, payments and subscriptions, and about.
Click the option data and privacy. This tab will provide key privacy options To help you choose the data. Saved in your account, The ads Information you share with others, and more.

Look for the option things you have done and places you have been section.
In this section tap my activity.
Scroll down the page in order to use the journal search bar or you can also check the search history by date or product option.

You can also check Google history by last hour, last day, all time, and custom range.
The search bar placed at the top of the page help the users to search for specific activity website or apps. The filter option includes the date, date range, and applications.
Conclusion :-
I hope this article on how to check google search history helps you in this article, we covered an essential guide and the steps mentioned above are quite detailed and easy to follow.