How To Check CIBIL Score In Paytm
🕐 1 Jul 23
Paytm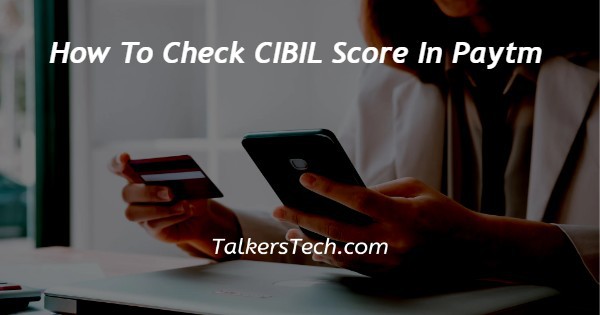 In this article we will show you the solution of how to check CIBIL score in Paytm, Paytm users can easily check the score of this table using its application available for Android and iOS users.
With the help of this report you can easily get to know about your active credit card and loan account details without any cost.
A CIBIL score is a three digit number that starts from 300 and ends with 900. Your CIBIL score represent your creditworthiness.
In case you are looking for a solution on how to check your CIBIL score in Paytm this is the right article for you just follow the steps given below in order to check your CIBIL score in Paytm.
Step By Step Guide On How To Check CIBIL Score In Paytm :-
Open Google Play Store on your Android device.
In the search bar you need to type Paytm.
Now click on the option to install in order to download this application on your Android device.
Once the application is successfully installed, click open to proceed further.
Assuming you have already created your account and linked bank account in Paytm you just need to enter your mobile number and otp to login.
In the home page you will see various options such as recharge and Pay bills, movies and events, travel and trains and others.
Click the option- more.
Now you need to scroll down and search for the financial service tab.
Under this tab you will see various services such as insurance, Paytm money, bank, gold, free credit score and corona protect.
Click the options free credit score.
On the next screen it will ask you to enter some details such as first name, last name, mobile number, email address, permanent account number, date of birth.
Now take the check mark placed at the bottom of the screen and click the options Submit.
It will take a moment to get your credit score after you enter all these details.
In another pop up box it will ask you to enter the one-time password that you have received on your device.
Click the option- Submit OTP and view your credit score.
On the next screen you will see your credit score, credit report date, and it's status.
It also provides other options such as view detailed report, all loan and credit card accounts.
If you click the option do detailed report you can see the average credit score of Paytm user as per the states and factors impacting your credit score.
Conclusion :-
In this article we covered an essential guide on how you can check your CIBIL score in Paytm on an Android device.
I hope this article on how to check CIBIL score in Paytm helps you and the steps and method mentioned above are easy to follow and implement.