How To Check Bank Account Details In Flipkart
Last Updated : Sep 29, 2021
IN - Flipkart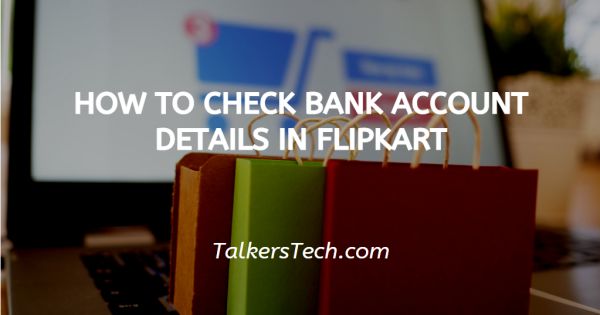 In this article we will show you how to check bank account details in Flipkart, online shopping sites like Flipkart, Amazon, Myntra, Nykaa, etc. are a great platform to buy and sell goods and services.
Flipkart offers a wide range of products, starting from bare minimum and basics to expensive items like TV, Air conditioners, furniture, and more!

But the list of its convenience doesn't end here! Yes you read that right.

Flipkart also offers flexible hours for delivery to make sure you don't miss the delivery boy. It also offers easy return and refund policies, quick redressals etc.

Moreover, it provides its users with the ability to choose the mode of payment as per their requirements. It includes payment via cards, debit and credit, payment using UPI apps like Gpay, etc., several EMI options, gift cards, cash on delivery, etc.

It uses a safe interface where your bank account details and card details are safe and need to be verified by you, each time you make a transaction.

Let us see how you can check your bank account details in Flipkart using the easy steps given below.
Step By Step Guide On How To Check Bank Account Details In Flipkart :-
Open your mobile phone and click on the 'Flipkart' app from the App tray.

On your home page, you will see various trends and offers, latest products, etc. on the top left corner of the page, you will see the 'Menu' icon with three horizontal lines, click on it.

This will open a list with various options related to your account. Scroll down and click on the 'My account' icon.

You will see a list with several options, scroll down and bring your cursor to the 'My cards and wallet' icon and click on it.

Here, you will be able to see all the saved details related to your payment methods, be it UPI apps like Google pay, etc. it will also show you the details of your giftcards and debit and credit cards.

Under the Saved Cards heading, you will be able to see all the card numbers, name on the card, etc. that you have saved on your Flipkart account.
Click on any card to view its details, etc.
Moreover, you can also view your transaction history via all modes of payment by simply clicking on the 'View transaction history' icon located at the bottom of the page.
This will show you all the transactions made by you on the platform
Flipkart also allows you to add or remove card details or edit it.
Conclusion :-
I hope this article on how to check bank account details in Flipkart helps you.