How To Check Airtel Validity Online
🕐 1 Jul 23
Airtel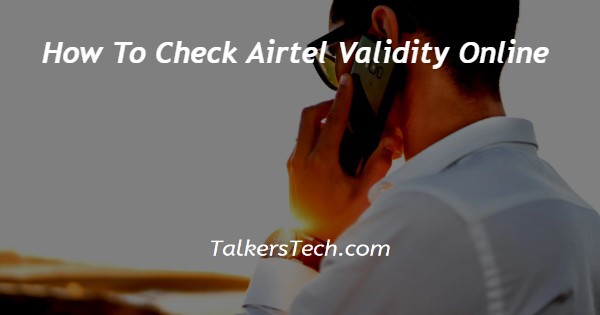 In this article we will show you how to check airtel validity online, there are various methods to which you can easily check Airtel validity online.
One of the direct and quick methods is to simply install the Airtel thanks application on an Android or iOS device to get to know about the validity of your current plan in Airtel.
Nowadays it is essential for every person to check the data balance and other details of their plants.
Airtel allows its user to easily check their validity without causing any trouble.
In case you are finding it difficult to check Airtel balance validity and other services there are various methods to solve this issue.
In case you are looking for a solution on how to check Airtel validity online then this is the right article for you just follow the steps given below in order to check Airtel validity online.
Step By Step Guide On How To Check Airtel Validity Online :-
Method 1 - Using The Airtel Thanks Application
Download the application from the Play Store.
You need To enter your mobile number to login.
After entering the OTP you will see 5 tabs placed at the bottom of the screen named manage, pay, shop, discover, and help.
The top box will show you the preferred option along with your numbers and the daily data left, validity and other details.
As you can see in the picture given below, the top box showcases that the three days are left for the expiration of the current plan.
The second circle shows the validity placed in the center of the box.
To know more about your prepaid plan you can simply click this box and get to know more about the details of the current plan along with the validity.
Method 2 - Using Self Care Service
You need to go to Airtel self care help service.
After visiting this page you need to enter your mobile number and login with the help of one time password which is sent to your Airtel mobile number through sms.
Once you enter the number along with the one time password you will be able to see the Airtel validity and other important details such as data balance on the self care service dashboard.
Conclusion :-
I hope this article on how to check airtel validity online helps you and the steps and method mentioned above are easy to follow and implement.
In this article we covered an essential guide on how you can check Airtel validity which includes data balance, main balance and other important services offered by Airtel.
This article covers the method through which you can check your Airtel validity in online mode.
The first method highlights the steps by using the Airtel thanks application and the second one emphasizes the self care service.