How To Change Your Name Color In WhatsApp
Last Updated : Apr 5, 2021
IN - Whatsapp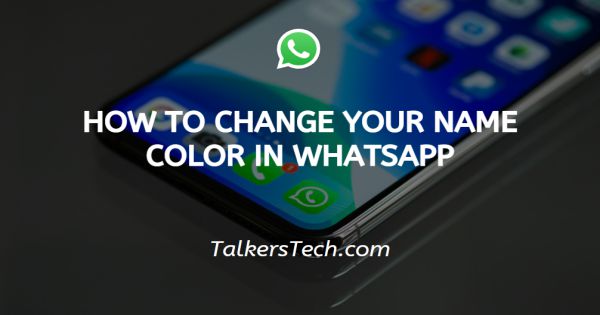 In this article we will show you how to change your name color in WhatsApp, WhatsApp is nowadays going on trend very much. Everybody from youngsters to old age people is using WhatsApp and are a fan of WhatsApp. People are nowadays so attracted to WhatsApp.
We know you guys must use WhatsApp on the daily basis but we can bet you guys that you would not be aware of the trick we are going to tell you in this article.
Step By Step Guide On How To Change Your Name Color In WhatsApp :-
Here in these steps what you will have to do is nothing but just install an application which is known as yowhatsapp and that application is as same as WhatsApp.

This application "yowhatsapp" is I would rather say that is much better than the original version of WhatsApp.

So let's not waste the time and let's get started
The first and foremost thing you have to do is uninstall the WhatsApp application you are having on your mobile phone.
Now after uninstalling what you have to do is install an application that is similar to the WhatsApp application. You can directly install that application by searching on google
Now after installing that application, open the application and give all the permissions and log in to your WhatsApp id
Now you will see an interface as same as the WhatsApp original version
Now What you have to do next is tap on the three dots which are on the extreme right corner and you will see multiple options like YOMODS, RESTART YOWHATSAPP, MESSAGE A NUMBER, Etc.
What you have to choose is the first option that is YOMODS
Now again you will see multiple options, what you have to choose is universal which is on the fourth option
Now after clicking on universal you will see three options which are COLORS, STYLE, and MODS
What you have to choose is of your choice whether you want to change the colour, style, or mod of your chats
Now when you will click on any one option from the above-mentioned option then you will get your change immediately
Conclusion :-
YOWHATSAPP is as same as WhatsApp's original WhatsApp application, even it has a lot more features than a normal WhatsApp. When you will use it you will love it. You can customize your WhatsApp application the way you want.

And the best part is that it is a trustworthy application, it will harm neither your mobile phone nor your WhatsApp id.

So guys these were some simple and easy steps I hope this article on how to change your name color in WhatsApp helps you.