How To Change WhatsApp Theme Colour And Look Completely
Last Updated : Nov 11, 2020
IN - Whatsapp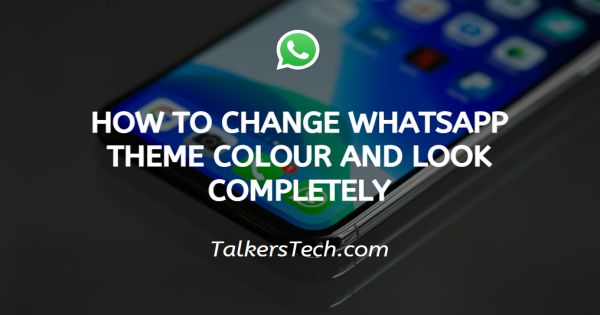 In this article we will show you how to change WhatsApp theme colour and look completely , people in modern world are surrounded by technology all around. New technologies come into this world and leave it's impact on the human world, same happens every day as new technology is made every single day.
One of them is an application know as WhatsApp, it is the biggest texting platform in the world right now, people love it and moreover people trust it. WhatsApp has made it's mark on us humans and we love it.

As it is everyone's favourite, hence it must keep up with the latest trends and tech. to keep their users happy and satisfied. It has over 2 billion users worldwide, it is really ruling the world in this domain and at the same time it is hard for the CEO i.e. Mark Zuckerberg to keep his users satisfied and make application flawless but he and his team has done it again.

One of those trends which is making everybody crazy is the theme mode, so basically with this tech user can change the interface's theme from light to dark. What i mean is you can change the system UI from light-coloured to dark-coloured.

WhatsApp has also adapted to it and applied this to their application. . This dark theme feature in application was introduced in 2019 by WhatsApp, before that we had to change our mobile device's theme to dark to enforce the dark theme in WhatsApp application.

Mark Zuckerberg also introduced the dark theme for Instagram in the year of 2019, surely he knows what his users want and how he can provide and satisfy his users. One can also apply this to their mobile by these easy steps.

In this article we will show you those easy steps by which you can apply dark theme to your WhatsApp application and can enjoy the dark theme.
Step By Step Guide On How To Change WhatsApp Theme Colour And Look Completely :-
1. The First Method Is
Change your mobile's theme to dark from light, it will automatically change the interface of all the applications on the mobile, hence, WhatsApp's theme will also change. Every phone has different ways to turn ON the dark theme, you will find it most probably in your settings>display.
2. The Second Method Is
Open your WhatsApp application.
Go to settings.

Go to chats.

Tap on Themes.

Tap ON "DARK".
Conclusion :-
With these simple steps, one can achieve this result. People really like dark theme nowadays, every one should try it, maybe you end up liking it too. Trend will come and go, try and everything maybe something new will suit you and make you more happy and satisfied.

Hope this article on how to change WhatsApp theme colour and look completely helps you and you can now change your WhatsApp theme and look completely.