How To Change UPI Id In PhonePe
🕐 1 Jul 23
PhonePe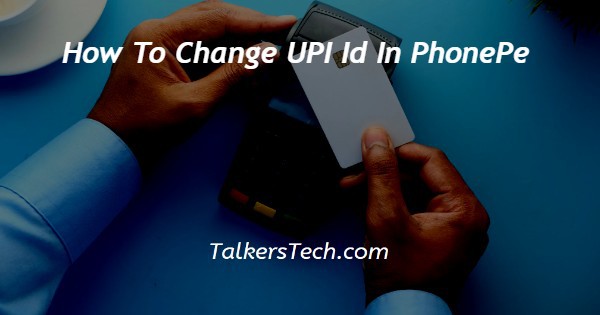 In this article we will show you how to change upi id in PhonePe, Unified payment identification number consists of four to six digit secret code that help you to transfer money.
You can only change your UPI ID once when you are adding a bank account in order to send or receive money from PhonePe.
In case you are looking for a solution on how to change UPI ID this is the right article for you just follow the steps given below in order to change UPI ID in PhonePe.
Step By Step Guide On How To Change UPI Id In PhonePe :-
Open Google Play Store on your Android device.
In the search bar you need to type PhonePe.
Now click on the option install in order to download this application on your Android device.
Once the application is successfully installed click open to proceed further.
Assuming you have already created your account in PhonePe you just need to enter your mobile number and four-digit password to login.
After successfully login to your account, you will see four options placed at the top of the screen which include wallet activated, add bank account, add new card and add photo.
Click the option add bank account placed at the top of the home tab.
On the next screen you will see the name of popular banks along with the other banks.
You need to choose the similar Bank in which you have registered the mobile number that you have used for the PhonePe account as well.
If the mobile number matches to both your bank and PhonePe account it will fetch your account details on the next screen.
Now it will show you the list of the accounts that are created with the similar bank and you need to select the specific account in order to make payment on PhonePe.
Now PhonePe will fetch your bank account details.
When you add the specific bank account in PhonePe it will show you the associated BHIM UPI ID along with the edit option placed next to it.
Make sure to remember once you change your BHIM UPI ID you will not be able to change it again.
Click on the edit option.
Now a popup box will appear on your screen which will ask you to enter the BHIM UPI ID.
After entering the UPI ID as per your choice press save.
Once you change the UPI ID, press- proceed to add.
You can change this id as much as you want until you click on this option.
The account is added successfully you can see all its details such as branch, type, IFSC and BHIM UPI ID.
Conclusion :-
In this article we covered an essential guide on how you can change UPI ID in PhonePe.
I hope this article on how to change upi id in PhonePe helps you and the steps and method mentioned above are easy to follow and implement.