How To Change Spotify Username From Numbers
Last Updated : May 9, 2022
IN - Spotify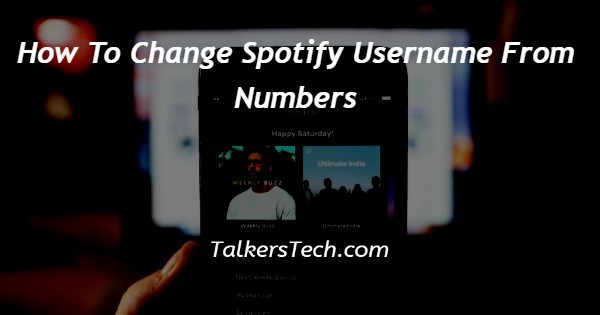 In this article we will show you how to change Spotify username from numbers, there is no second guessing or doubting the fact that Spotify is one of the leading music streaming platforms in the world.
It has a massive library with songs and tracks from different parts of the world.
However, it does have its own flaws. One major flaw that it has is that it doesn't allow its users to change their usernames.
By default, the username is a random combination of alphabets and numbers that cannot be comprehended or understood by laymen.
This is very frustrating and can be annoying at several occasions.
If you are someone who relates to this problem, you have come to the right place.
Even though there isn't any official way to change the username, there sure are workarounds that help you achieve the same objective.
In this article, we will explore how this can be done. The method described below works and is reliable.
Follow the steps as explained below and you will be able to hack around this flaw of the Spotify account.
Step By Step Guide On How To Change Spotify Username From Numbers :-
Now, the first thing that you need to do is access your Spotify account. This could be on any compatible device like your phone, laptop, etc.
In a different window or tab open your Facebook account as well.
Now open your Spotify account. This will bring you to the homepage.
Here you will be able to see all the folders, latest launches, daily mixes, etc.
On the top right corner, you will be able to see the 'Settings' icon.
Click on this icon to proceed ahead.
This will open the Settings menu on the screen.
From the menu, click on the 'Social' icon.
In the next page, enter the credentials and details related to your Facebook account.
And click on the 'Connect to Facebook' icon.
This will connect your Spotify account to your Facebook account.
Once this is done, your username will automatically change to be same as the one on your Facebook account.
There's another way to change your Spotify username and that is by creating a new account.
You can also try changing the display name in order to change your Spotify username.
Conclusion :-
This is how you can try to change your username on Spotify quickly. Even though the last two methods are popular, we suggest that you use the first method to try to username of your Spotify account.
I hope this article on how to change Spotify username from numbers helps you and the steps and method mentioned above are easy to follow and implement.