How To Change Signature In Outlook 365
🕐 1 Jul 23
Microsoft Outlook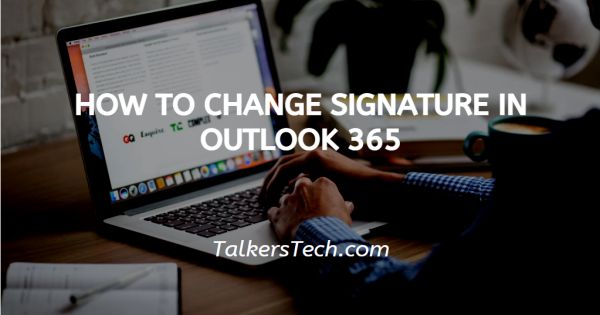 In this article we will show you how to change signature in outlook 365, Microsoft Outlook is personal information manager software system by Microsoft. It's main purpose is to serve as an Email client.
It also includes functions like task managing, calendaring, journal logging, web browsing, contact managing and note taking.

Outlook.com is a free mail version of Microsoft Outlook, using a similar user interface. People can use Outlook as stand alone app, organisation's can deploy it as multiuser software for such shared functions as mailboxes, calendars, folders, data etcetera.

This software system allows you to create more than one personalized signature for your email messages.

The signature can include text, images, electronic business card, a logo or even the image of your handwritten signature.

Outlook's email signature option gives you opportunity to finish every one of your mail with a short summary of the details you find important to share according to your job, making sure that your recipient s can easily reach you via different methods.

The process is very easy, you can change your signature or edit it any time you find it suitable to change.

In this article we will follow the steps to get you to change your signature.

You can setup Outlook so that your signatures automatically gets attached to your outgoing messages.

Or you can also create a signature and add it to messages in accord to different case basis. To update your signature using Outlook 365 follow the steps below.
Step By Step Guide On How To Change Signature In Outlook 365 :-
The first step is to launch Outlook
Click on the gear like icon setting option at the top of Outlook screen.
Then select View all the Outlook Settings from the drop-down menu box.
And then click on the "mail" option from the settings page.
Next click on the Compose and Reply option.
Click on the signature name you need to change.
Make your changes via "Rename" option just beside the Delete option.
When done, click on "save".
Steps to change signature in Android
To update your signature, at first, you need to open Outlook in your device.
Then, just click on the profile icon which is just beside the Inbox word at the top left corner of your screen.

After that a slide will appear with a menu options
Just click on the Setting option which resembles as a gear like icon at the bottom of the slide menu.

Then, a setting page will open on your mobile screen.

Under the Email section just, click on the "Signature"
And you'll be directed to the page where you can change your signature.
Conclusion :-
Following the steps given above you have changed your signature successfully. If not then there might be some problem in your software so you might want to update the system or get your device checked from an expert.

I hope this article on how to change signature in outlook 365 helps you and the steps and method mentioned above are easy to follow and implement