How To Change Refund Bank Account In Flipkart
Last Updated : Sep 29, 2021
IN - Flipkart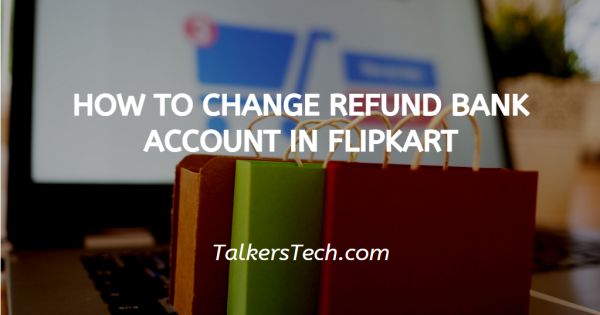 In this article we will show you how to change refund bank account in Flipkart, Flipkart is one of the most popular online shopping platforms that offers the widest range of products to shop. It has a huge network of buyers and sellers who trade via the online mode.
Thus, it is the responsibility of the Flipkart Company to make sure that all its users, buyers and sellers are verified and authentic.

Not only has it brought shopping malls and markets to your bedrooms, but it works to constantly make life more convenient for its customers. In pursuit of this, it launches various new features and updates its interface to ensure world-class user experience.

One of the most essential thing for any online business is to ensure easy and flexible return or exchange policies and Flipkart has done wonders in this respect.

In this article, we will see how you can change refund bank account in Flipkart in just a few easy steps.
Step By Step Guide On How To Change Refund Bank Account In Flipkart :-
Unlock your mobile phone and go to the 'App tray'. From the list available, click on the 'Flipkart' app icon.
As soon as you do this, you will be taken to the home screen of your Flipkart account.
On the left top corner of the page, you will spot the 'Menu' icon depicted by three horizontal lines. Click on it to see the menu list.
From the options listed, click on the 'My orders' icon.
Now you will be able to view all the orders made by you and their status, that is, whether they have been dispatched, where they are in shipment, or delivered, etc.
From this, click on the one you wish to return back and ask for a refund instead.
You will be taken to the 'Order details' page. Here, you will be able to see all the details related to the product. Scroll down and click on the 'Return' icon.
As soon as you do this, you will be taken to the 'Request return' page. Here you will need to fill in the details like your reason for return, etc. and then click on 'Continue' to proceed further.
In your 'Return options', choose the 'Refund' option. This will open a list on your screens showing you various options like online payment methods, debit and credit cards, etc.
Choose the 'Bank account' option and click on it.
Now, by default the refund will go to the card from which the payment was made. However, you can here either change the bank account by choosing the card number associated with it, or add a new one.
You can also opt to receive the amount in your gift card wallet, PhonePe, etc.
You will get a confirmation indication and details regarding the refund like the number of business days the refund will take from the date of pickup of the item, etc.
Conclusion :-
I hope this article on how to change refund bank account in Flipkart helps you.