How To Change Primary Account In PhonePe
🕐 9 Apr 23
PhonePe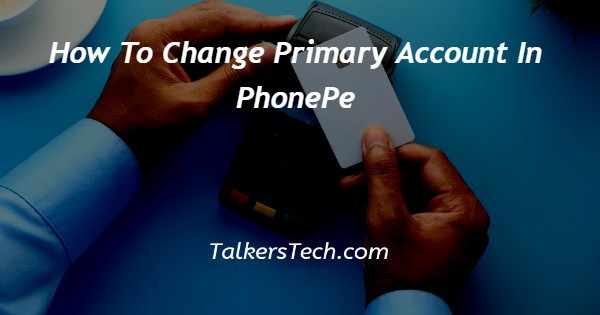 In this article we will show you how to change primary account in PhonePe, the primary bank account on PhonePe refers to the account in which users will receive money that is sent to their PhonePe registered mobile number through BHIM UPI.
If other PhonePe users send money to your PhonePe registered mobile number then money will be credited to your primary Bank account.
If users have added a single bank account on PhonePe, then it is their primary bank account and they don't need to do anything.
However, if a user has multiple bank accounts linked with PhonePe then they need this one account as their primary bank account to receive money sent via PhonePe registered mobile number just follow the steps given below in order to change your primary account in PhonePe.
Step By Step Guide On How To Change Primary Account In PhonePe :-
On Android Device
Open Google Play Store on your Android device.
In the search bar, you need to type PhonePe.
Now click on the option to install in order to download this application on your Android device.
Once the application is successfully installed, click open to proceed further.
Assuming you have already created your account in PhonePe you just need to enter your mobile number and four-digit password to login.
After successfully login to your account you will see 5 tabs placed at the bottom of the screen.
These tabs are called home, store, search, my money and history.
Click the option my money placed at the bottom right corner of the screen.
In my money page you will see various options for investment, insurance and payment.
Under payment, you will see various options which include bank account, debit card, credit card, auto pay, PhonePe wallet, gift cards and others.
Click the option bank account under the Payment heading.
On the next screen, it will display the list of all the bank accounts that are linked in PhonePe.
User's current primary bank account is marked with a green small round bar that can be changed easily and set another as a primary bank account.
You can change your default primary bank account by tapping to highlight the green tick mark next to the desired bank account and confirming it.
Now whenever any other PhonePe user sends money to your bank account through your PhonePe mobile number then that money will be credited to your Changed bank account.
Conclusion :-
In this Article we covered an essential guide on how you can change your primary account in PhonePe.
We have also discussed the importance of a primary account in PhonePe.
I hope this article on how to change primary account in PhonePe helps you and the steps and method mentioned above are easy to follow and implement.