How To Change Payment Method On Facebook
🕐 1 Jul 23
Facebook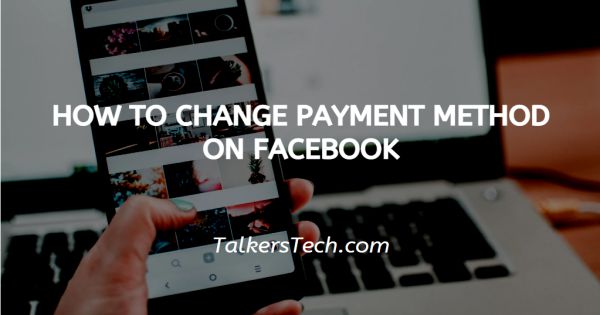 In this article we will show you how to change payment method on Facebook, there are times when you have to update your invoicing details or payment mode to keep your Facebook advertisement running.
Unfortunately, most people are unfamiliar with the Facebook Business Manager or have even been on the Ad Manager platform before.

In this article, we'll provide you with an overview of how you can configure your Facebook payment method and update it if you need it in the future.
Step By Step Guide On How To Change Payment Method On Facebook :-
First, we must understand that payment methods are necessary to create and display ads on Facebook. If you're unfamiliar with the platform, you can take a quick look at it on Facebook Business Manager here.

The initial implementation of payment methods is the first mandatory step before the creation of ad accounts and the assignment of payment methods, and lines of credit to other business managers, including organizations.

Add your Facebook payment method to Facebook Business Manager.

Facebook offers you a variety of payment options that you can choose to execute Facebook Ads. Before you begin, you should ensure that you are the administrator of the advertising account, otherwise, you may experience an error when attempting to add a payment method.

There is a requirement to add a method of payment before advertising can be published. If you want to add a payment method to your Facebook Business Manager, proceed as follows.
Sign into the Facebook Ads account through https://business.facebook.com/
Fill out the login information and then click "Login"
Click on the Grid menu icon at the top left corner of your screen to access Business Tools.
Click on "Billing" option.
From the billing page, click "Payment Settings".
Once you have reached the "Payment Settings" screen, hover over the "Payment Method" section and click on "Add Payment Method".

Type in your payment details, then click on "Continue".
Do not forget that if your advertising account is configured for manual payment, no method of payment can be added using these steps. You will have to add money to your ad account via the manual method of payment.

If you have more than one payment option in your advertising account, you can choose a primary payment option. Facebook will first bill your primary mode of payment when you make a payment for your Facebook ads.

You can update or modify the payment methods you have with the similar steps you read earlier. Simply click on "Edit" next to the payment method you want to edit or update, and then click on "Save" once you have finished.
To Change The Payment Method Or Account In Facebook Advertising Campaigns, You Must Follow The Following Steps :-
Navigate to Facebook Ads Manager and click on the "Menu" option at the top left corner of the page.
Among all the options that appear, you must select "Billing".

On the following page you will find details of your past payments. You must select "Payment Settings".

Now on the current page you will see the possibility to add or change the payment methods of your relevant Facebook advertising account.
You can easily change the payment settings for your Facebook advertising account from here and use your account appropriately.
Conclusion :-
I hope this article on how to change payment method on Facebook helps you and the above step by step guidance is helpful to you and now you can easily change the payment method on Facebook by following the guides.