How To Change Netflix Plan On iPhone
🕐 1 Jan 23
Netflix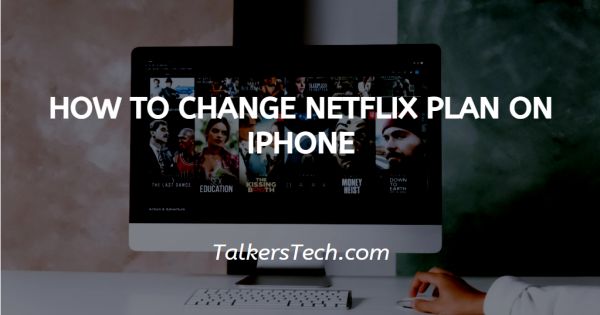 In this article we will show you how to change Netflix plan on iPhone, Netflix provides three plants so users can choose the right one based on their budget and requirements. Each plant includes distinct features including number of screens and the streaming quality.
In case your current plan does not match up to your requirements you can change the Netflix plan on iPhone. You can install the Netflix application for free however you need to pay the cost for a monthly subscription.

iPhone users can easily watch their favorite movies and shows with the help of a monthly subscription. It is one of the most popular subscription-based entertainment sources available to all the people across the globe.

In case you are looking for a solution on how to change Netflix plans on your iPhone, this is the right article for you.
Step By Step Guide On How To Change Netflix Plan On iPhone :-
Open Netflix application on your Apple device.
In case it does not log you into your account you need to enter your Netflix credentials to proceed further
After successfully logging into your account click the more menu placed at the bottom right corner of the screen.
From the more menu select option- account.
The Netflix application does not allow the user to change the settings within the application and will redirect the user to a web browser for further settings.
The browser version of Netflix will show various options for membership and billing, Plan details, settings, Profile and parental controls.
Look for the plan detail column and click the option change plan placed next to it.
Select the desired plan as per your budget.
A prompt box will appear on your screen which will show your current plan and the new plan along with its details and the beginning date of the new plan.
Tap the option- confirm change to change the Netflix plan on iPhone
You need to select the plan as per your own convenience. The basic plan allows the users to watch Netflix on one device at a time and it does not include HD quality. The resolution quality is at 480 p.
The standard plan allows the users to get HD quality of video on up to 2 devices at the same time and the user can also share the account with someone. It lets the user stream at a higher resolution of 1080 p.
The premium plan provides the users to watch Netflix on four different platforms and it provides Ultra HD quality that displays 4K resolution. It is the top tier Netflix plan.
Conclusion :-
I hope this article on how to change Netflix plan on iPhone helps you and the steps mentioned above are quite detailed and easy to follow.