How To Change Mobile Number On Flipkart
🕐 1 Jul 23
Flipkart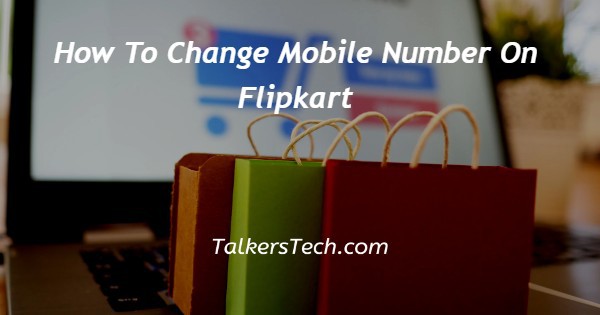 In this article we will show you the solution of how to change mobile number on Flipkart, India's largest internet store is Flipkart. As with any online transaction, you must be sure you are getting what you paid for despite the wide variety of goods offered at affordable prices.
Flipkart currently sells products in all categories, including electronics, apparel, appliances, cosmetics items, sports equipment, books, stationery, toys, and more.
You can register for a Flipkart account and begin your shopping. You can pay for the selected item online with net banking, a debit card, a credit card, wallets, or by choosing the COD option to pay when the item is delivered.
And as we know that Flipkart works on the mobile number which we provide in our details. if you want to change the mobile number you must find it difficult to do so.
Here we have provided step by step guide on how to change mobile number on Flipkart. Just follow the steps and change your mobile number easily, let's go
Step By Step Guide On How To Change Mobile Number On Flipkart :-
First method
At first download the updated version of Flipkart app on your smart phone using play store.
After installing Flipkart app open the app and login to your Flipkart account using your account details.
When you open the Flipkart app you can see your "account" icon at the bottom of your screen.
Tap on that account icon which is displayed over there.
Once you clicked on the account icon you can see several options including "Edit profile"
When you see Edit profile option, just click on that option.
From there you can see your provided details, including your name, mobile number, email address etc.
Tap on the given details to edit the provided information.
If you want to change the mobile number. Tap on the "update" option present on the mobile number column.
Once you updated your new mobile number click on submit option present on the screen.
That's it. Your mobile number is now changed on Flipkart app
Second method
Open the Flipkart.com website.
And login to your account by giving your account details.
Now open My Profile by clicking on your name.
Then click on Account settings
After clicking on account settings, you can see profile information option in the drop-down menu.
There you can see your current active mobile number.
Click on edit option and enter your new mobile number.
After entering your new mobile number click on the save option.
Your new number must now be verified. a One Time Password will be sent to you on your new number.
Click on "verify Mobile" after entering your login information and this OTP.
And you are done.
Conclusion :-
In this article we given you information how to change mobile number on Flipkart in two methods.
In order to receive any OTP or any call related to the order that you have placed on the Flipkart app mobile number is the most important thing that one must be tame care of.
As everything is now connected to mobile number keeping your mobile number updated on every account is necessary.
I hope this article on how to change mobile number on Flipkart helps you and the steps and method mentioned above are easy to follow and implement.