How To Change Mobile Number In Flipkart App
Last Updated : Oct 12, 2021
IN - Flipkart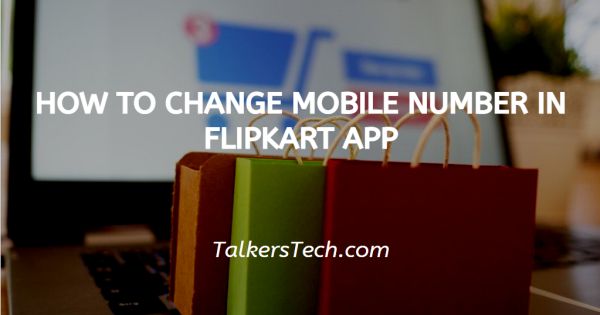 In this article we will show you how to change mobile number in Flipkart app, for a simplified way in order to change the mobile number in the Flipkart, use desktop mode in your phone's browser.
Flipkart informs you can't change mobile numbers using Flipkart application so you must visit the official website of Flipkart in order to change your mobile number.

Two people, Sachin Bansal and Binny Bansal initially found Flipkart in October 2007. They formerly worked for Amazon.

This company initially targeted online book sales with countrywide shipping. Flipkart slowly gained its growth and started receiving hundred orders per day by 2008.

Flipkart's Big Billion Day sale helped the company to boost its sales and enter the big league. With this sale, they could beat Amazon's share in the market.

Given below is a detailed process on how to change a mobile number in the Flipkart app.
Step By Step Guide On How To Change Mobile Number In Flipkart App :-
Visit the website of Flipkart. tap your name placed at the top right corner of your screen.

Under your name you will see various options such as My Profile, super coins zone, Flipkart plus zone, Orders, Wishlist, my chats, Coupon, gift cards, Notification, log out. Click on the option on my profile.

Once you open the page of my profile, various options will occur on your screen such as My orders, Account settings, Payments, My chats, My stuff. Under these heading there are various subheadings providing different options of modification. Click Account Settings.
Under account settings you will see three options on your screen named as Profile information, manage addresses, PAN card information. You need to click the option of profile information in order to change your mobile number.

After this step as you can see in the picture below, you can edit personal information, email address and mobile number.
Look for the registered mobile number and decide that you will see an option of edit.
In order to change your number on Flipkart, write your new number.

Once you write your new mobile number, you will receive a notification of OneTime Password in order to verify the process.
Enter the OTP as appears in the notification and press verify mobile.
Once the OTP is entered and you verify the mobile number, it successfully completes the procedure.
Conclusion :-
I hope this article on how to change mobile number in Flipkart app helps you and the steps are easy to follow. In order to change your mobile number you must have a Flipkart account.

If you do not have a Flipkart account, you can easily create one by adding your basic detail and then you can do the modification as per your convenience.