How To Change Language On Disney Plus Roku
Last Updated : Apr 13, 2022
IN - Disney Plus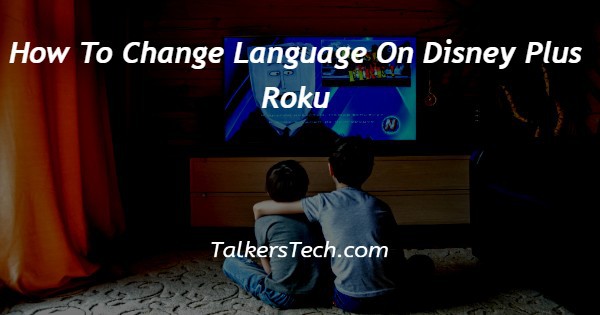 In this article we will show you how to change language on Disney plus Roku, the Disney Plus offers specific languages for the web browser, smart LED smartphone devices, and game console but not for Roku. Disney plus provides various languages such as English Spanish and French.
Disney plus has gathered millions of subscribers in recent years and is still expanding.
It the entire Disney family along with marvel, Star Wars, and Pixar the cost of the Disney plus subscription is affordable.
You must be aware of the fact that every language is not available for each of the titles on Disney Plus.
You can change the language of specific movies and TV shows on Disney plus along with changing the application language using the Profile setting.
The changes will only be applicable to a specific profile so different members of the application need to use the app according to their Preferred language.
Case you are looking for a solution on how to change the language for Disney Plus Roku, this is the right article for you.
Step By Step Guide On How To Change Language On Disney Plus Roku :-
Click the left arrow on the remote to showcase the left pane menu from the main home screen of the Disney Plus channel on Roku.
The left panel of the screen will show your profile along with other options such as home, series, settings, and others.
Click your profile icon placed at the top left corner of the home screen.
Your profile will appear on the screen and you need to click the option edit profile placed at the bottom of the screen.
After clicking the edit profile option on the next screen it will show you the options for editing your profile including profile picture, app language, Background video, autoplay, and parental controls.
Click the option app language from the edit profile options.
On the next screen, you will see the list of available languages on Disney Plus.
These languages include Chinese, Dutch, English, Spanish, French, and others.
After selecting the language that you want to use for the Disney Plus channel select done placed at the bottom of your profile image.
Now the Disney Plus channel will showcase the movie shows TV series and other content of Disney plus in the language you have selected on Roku.
Conclusion :-
I hope this article on how to change language on Disney plus Roku helps you in this article we covered an essential guide on how you can change the language for Disney Plus Roku and the steps mentioned above are quite detailed and easy to follow and implement.