How To Change KYC Details In Paytm
Last Updated : Sep 21, 2022
IN - Paytm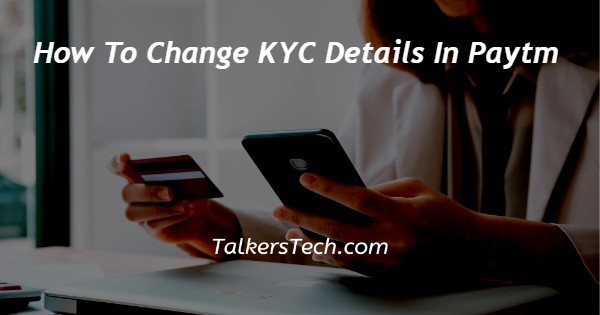 In this article we will show you the solution of how to change KYC details in Paytm, in case you have your KYC fully completed you can still change your details such as updating your mobile number.
If you are no longer using your current mobile number or want to to add another number for your care bye see you can easily do it with the help of 24/7 chat and support feature offered by Paytm for Android and iOS users.
In case you are looking for a solution on how to change KYC details in Paytm this is the right article for you just follow the steps given below in order to change KYC details in Paytm.
Step By Step Guide On How To Change KYC Details In Paytm :-
Open Google Play Store on your Android device.
In the search bar type Paytm
Now you need to install this application on your device.
Once installed successfully you need to enter your login details to proceed further.
After successfully login to your account you will see the home page in front of you.
Click the profile icon placed at the top left corner of the screen.
A detailed menu will appear on the new screen which will show various options such as order and bookings, digilocker, cashback, profile settings, 24/7 help support, Paytm postpaid.
Click the option 24/7 help support.
On the next screen it will show you your recent ticket along with the option of choosing a service.
It includes various categories such as recharge and bill payment, Paytm wallet, Paytm KYC,travel, Savings account, profile settings, insurance and others.
Click the option KYC.
On the next screen you need to click the option to chat with us.
The Paytm assistant will ask you to choose the options listed below on the screen such as I want to complete my KYC, I want to transfer KYC from old number to new number, I say that issue at the KYC point, not able to make outward payment.
Select the option- I want to transfer KYC from the old number to the new number.
Now it will confirm your log and number as your old number that you want to update or change details.
It informs that in order to change your KYC details or update your KYC from old number to your new number you just need to update your number from the profile tab.
From the left side menu, go to the profile.
On the next screen it will show you your email address, mobile number and the status of your Paytm wallet.
In the phone number textfield you will see the option of update written in blue at the the right corner.
Click the option- update to proceed further.
Once you click this option it will send you an OTP in order to verify your current mobile number.
Enter the one-time password and press confirm.
On the next screen it will ask you to enter your new mobile number.
Conclusion :-
I hope this article on how to change KYC details in Paytm helps you and the steps and method mentioned above are easy to follow and implement.