How To Change Keyboard Language To Hindi In Windows 10
🕐 1 Jul 23
Windows 10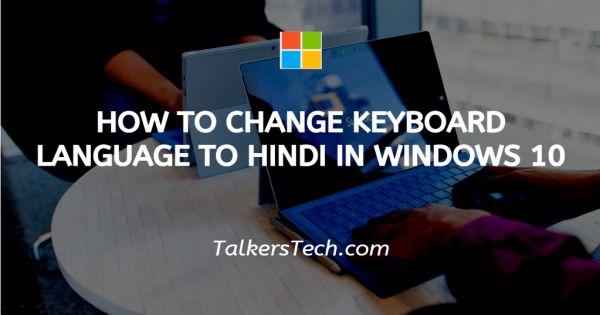 In this article we will show you how to change keyboard language to Hindi in windows 10, you can alter the language used by Windows in all the applications that you use or you can simply use the keyboard language.
You can also change the language on your keyboard without changing the meaning on the display.

Now this is useful for accessing and putting emphasis on anything and other specialist symbols, as well as operating on a keyboard with a variety of language arrangements and options.

During the initial setup procedure of Windows 10, users can add one or more keyboard layouts.

Later You may easily add and change the keyboard configuration if you have configured it using the default settings or picked the incorrect layout, and if you want to switch to another language.

Once you've enabled the keyboard layout for two or more languages on your PC, you can effortlessly modify or switch between languages using the Language bar in Windows 10.

Language addition is very important because there are so many people who don't understand English.

So setting a favourable language is a good option for them. After you've set your preferences for the keyboard language.

You can open a document and start typing in a different language by clicking the language icon on the Language unit which is located at the bottom of the screen.
Step By Step Guide On How To Change Keyboard Language To Hindi In Windows 10 :-
Click the Start button, then the Settings icon.

Choose "Time & Language" from the drop-down menu. Click "Language" in the left menu pane.

Click your preferred language and then "Options" in the "Preferred languages" area.

To add a keyboard, go to "Keyboards" and click "Add a keyboard." Select the keyboard language you want to use from the pop-up menu.
Conclusion :-
Close the settings window. A language control button will show in the taskbar, in the lower-right corner of the screen, once you've added a second keyboard language to Windows.

Select the language you would like to use with your keyboard from the pop-up menu bar when you click it.

Now English is the preferred language on most Desktop machines, which is widespread and convenient for most Windows users.

However, if you need to type in a different language to meet your needs, you can easily change the keyboard language from the default to the chosen one.

Furthermore, a non-English speaker requires their native language as the keyboard input. However changing Windows default display language which displays everything in the selected language is an option.

You can change the display language easily by following the points mentioned above.

The keyboard language can be changed easily from English to Hindi and to any desired language so, I hope this article on how to change keyboard language to Hindi in windows 10 helps you.