How To Change Airtel Broadband Password
🕐 1 Jul 23
Airtel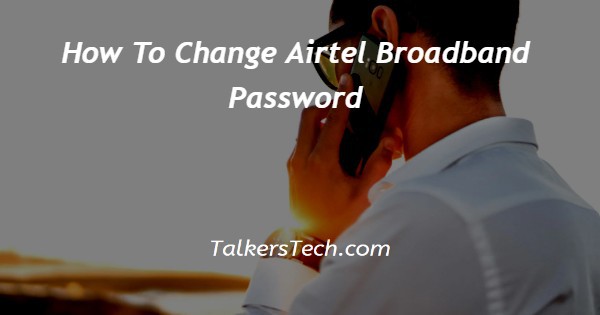 In this article we will show you how to change airtel broadband password, sometimes hackers can utilize your device in order to steal your personal data and other information.
Airtel also provides the simplest solution for changing your broadband password. You can easily change your Airtel broadband password using the router as well as the Airtel thanks application.
In case you want to secure your privacy data or your device is working slow and want to renew your broadband connection, you can easily go for the update of a new password for your Airtel broadband connection.
In case you're looking for a solution on how to change an Airtel broadband password this is the right article for you just follow the steps given below in order to change Airtel broadband password.
Step By Step Guide On How To Change Airtel Broadband Password :-
Using Airtel official website.
In case you have a laptop or computer which is connected to the prevailing Airtel Wi-Fi network you can easily open the web browser and change your password.
Open the web browser of your choice on your computer.
After this you need to make sure that you connect your computer to the Airtel broadband connection.
After successfully connecting your PC to the Wi-Fi you need to type 192.168.1.1 in the address bar.
After writing this code you will be redirected to the admin settings page of the router.
A router login popup will appear in front of you in which you need to write your username along with the password.
The default username is set to admin and the password is password in most of the scenarios.
However if you are not sure about the username and password you can always look at the back of the router or at the bottom of it.
Once you enter your username and password you will see a GPON home gateway in front of your screen.
On the left side menu you will see various options such as status, network, LAN, WAN, wireless schedule, wireless(2.4 ghz) , DNS, GRE tunnel and US classifier.
Select the network or wireless network option from the side menu.
Under this select wireless (2.⅘ ghz)
After this you need to move down to access SSID configuration.
Under the following you will see various options: SSID select, name, port mode, isolation, Max user, WPA version, WPA encryption more, WPA key and others.
Now you need to edit the content in the text field beside the WPA key in order to change your Airtel broadband password.
After entering your new password you can also click the option show password which is placed just below the WPA key.
After this press save to confirm the process.
Conclusion :-
I hope this article on how to change airtel broadband password helps you and the steps and method mentioned above are easy to follow and implement.
In this Article we covered an essential guide on how you can change an Airtel broadband password through the router. I hope this article solves your query.