How To Change Administrator Password On Windows 10
🕐 1 Jul 23
Windows 10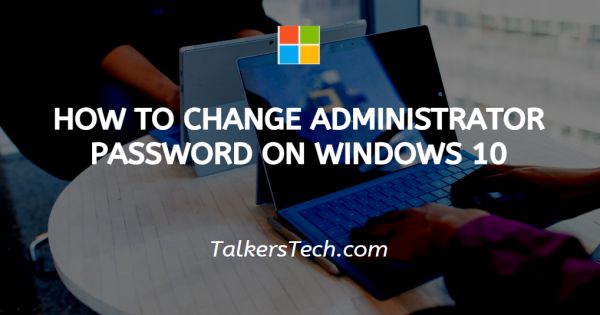 In this article we will show you how to change administrator password on windows 10, passcodes are the major necessity and the only method of authenticating a person's credentials in today's modern society.
It happens that we forget our passwords far more frequently than we would like it happens because of workload and we often forget the passwords that we set.

Although we should always remember our password because of hacking and phishing , changing of password is important.

And for that we should know those passwords we should accept that password reset is the option that we should do in case of any data breach or phishing.

Now it reveals that forgetting and resetting passwords is quite prevalent.

Now Updating credentials is a time-consuming operation, irrespective of the explanation, because you may be required to establish your identification through a certain form of authentication before you could even reset it.

Depending on whether you're using a local or a Microsoft account, there are several options for resetting the administrator password.

Following points are written that focus on the mode of changing local passwords because resetting Microsoft account passwords is simple. Carefully follow the steps to get it done.
Step By Step Guide On How To Change Administrator Password On Windows 10 :-
Start typing in the Windows Search Bar. Go to the lower-left corner of your screen and click the magnifying glass symbol.

Then type Control Panel into the search box and press enter. Under User Accounts, select Change account type. If you don't see this option, select Category from the View by drop-down menu in the top right corner of the window.

Choose the user profile for which you want to change the password. Change your password by clicking on it. Double-enter the user's new password. Enter a hint for the password.

Then select Change password from the drop-down menu. Finally, restart your computer to use the new password to log in.
Conclusion :-
If you have a Microsoft account, you may reset your Windows 10 password by clicking the "Forgot password" link and receiving a new password through email.

This is a simple task that takes only a few minutes to finish and is self-explanatory. This is why you should use a Microsoft-linked account and password for your login credentials.

Resetting your local account, on the other hand, will take a little longer. But you can also use the command prompt because it's the most convenient way to do so while you're already logged in.

You'll have to use an external source or a flash drive to reset your password if you're not logged in so, I hope this article on how to change administrator password on windows 10 helps you.