How To Change Administrator Name In Windows 10
🕐 1 Jul 23
Windows 10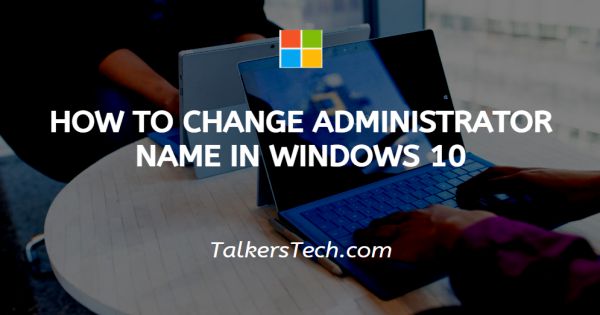 In this article we will show you how to change administrator name in windows 10, the moment when you select your username when launching a new Microsoft Windows PC may take you to an unaware edge.
If the point is that, then you can go with whatever comes to mind initially or something random and temporary that you'll modify afterwards.

But, unexpectedly, changing your account name in Windows 10 isn't exactly a simple task. It is possible, but there are a few things to keep in mind as you proceed.

The username you use to sign in to Windows 10 is a component of your identification. When creating a username, it is common to make mistakes.

You can correct this in a number of ways. Editing usernames is currently unavailable in the Settings app in Windows 10.

Although changing the username is simple, the change is not reflected in the C drive's User folder.

It's hazardous to rename it and sometimes remaining with it or simply creating a new user account and moving your data to it is a better alternative.

It is indeed inconvenient, but it's preferable to having a non-messed up user profile. Now two methods are available below to easily achieve this.
Step By Step Guide On How To Change Administrator Name In Windows 10 :-
Method 1
Launch the Start menu in Windows. This is accomplished by pressing the Windows logo-shaped button in the lower-left corner of your screen.

Select Settings after that. Just over the power button, there's a gear-shaped icon.

Then select Your information from the drop-down menu. In the left sidebar, you'll find this choice.

Go to Manage My Microsoft Account and select

Manage My Microsoft Account. This will take you to the homepage for your Microsoft account.
After that, select More actions from the drop-down menu. This drop-down option is located in the top left corner, close to your user account name.
From the drop-down menu, select Edit profile.
Conclusion :-
Another way is Computer Management, the computer management option for renaming the administrator's name is the quickest of all. To change your name right now, follow these steps
At the bottom of your screen, right-click the start menu.
To proceed, select "Computer Management."
Once the Computer Management menu appears, expand the "Local Users and Groups" option.
Choose "Users" from the drop-down menu.
To open the dialogue box, right-click on the "Administrator" option and select it.
To alter the administrator's name, select "Rename."
You're done once you've typed your desired name and pressed the enter key.
Conclusion :-
It was simple to change the administrator name in Windows 7 or Windows 8, but it is kind of more difficult with Windows 10.

You can update the administrator's name in one of the many ways. Two of them are mentioned above. I hope this article on how to change administrator name in windows 10 helps you.