How To Change Activity Log Settings On Facebook
Last Updated : Nov 17, 2021
IN - Facebook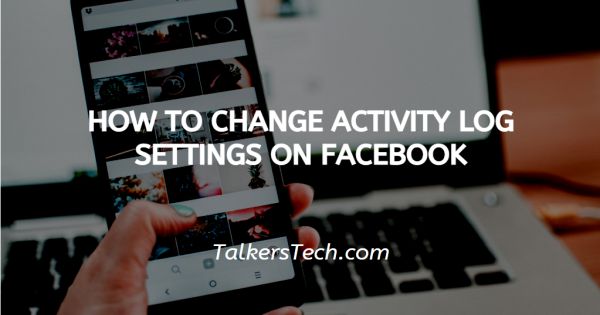 In this article we will show you how to change activity log settings on Facebook, Facebook is a vast platform with so many features. We spend hours scrolling through our feed, liking the posts, commenting, posting our pictures.
This all makes your Facebook history very complex and vast and all this vastness makes it very tough find any single post you liked or a video you came through. Luckily all our Facebook history gets saved in an Activity log.

Facebook saves all your history such as the post you like, your recent uploads, tags. Basically everything you do on Facebook gets saved in your activity log.

This makes it very easy to access all your information. Using the activity log you can keep track of all the happenings on your Facebook account.

From the activity log you can manage your recent posts, you can move your posts from your profile to archive where only you can see them.

You can search for even your oldest post using the activity log feature. Your activity log is only visible to you but the other content such as the posts will appear to everyone.

Your activity log lets you manage all your posts, interactions, groups, Login activity and connections. You can easily delete or move your content to trash.
Step By Step Guide On How To Change Activity Log Settings On Facebook :-
The activity log is the one stop solution to manage everything on Facebook. It contains all the information about your Facebook.

All your information from the day you created Facebook is stored in Activity. You can remove or edit your posts from the activity log. Follow the steps given below to change the activity log settings on Facebook.
Open the Facebook app on your device. You can download it from Playstore or Appstore. You can also use the mobile or desktop website for the same.
Now open your profile by clicking on the three parallel lines icons. The activity log is located in the profile of the user both in desktop and mobile. It is easier to use on the desktop site.

Now tap on Activity log to open it. Once you will open your activity log you will be able to see all your activities in a list.

Now you can select the option in which you want to make changes, for example if you want to remove a post you shared go to Your posts and make the changes. You can view your hidden posts and other content in the Archive.
Please note that it is not possible to turn off Facebook activity log as it plays a crucial role in the functioning of the app. You can delete the content you want but you cannot turn off the activity log.
Conclusion :-
In this article we showed you all the points and how to do this. I hope this article on how to change activity log settings on Facebook helps you.