How To Cast Netflix From Phone To TV Without Wifi
🕐 9 Apr 23
Netflix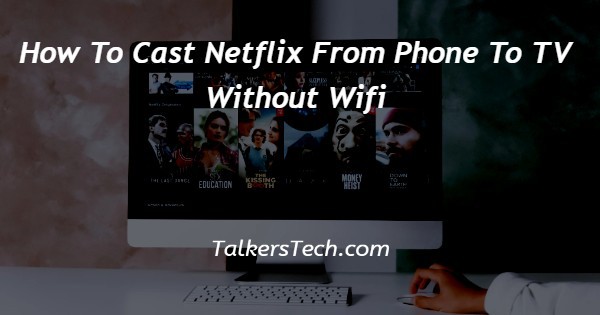 In this article we will show you how to cast Netflix from phone to TV without Wifi, many people confuse mirroring and casting to be the same thing. However, these terms are not the same.
You will typically need an active internet connection connected with both the device you want to cast with and the TV to be able to cast.
On the other hand, mirroring the screen from your smart device to the TV requires you to have the necessary cables that attach to the ports on both of the devices.
In this article, we will see a few options that will help you cast Netflix from your mobile phone to TV without using any wireless or wi-fi internet connection.
Go through the points explained in the points below and you will be done in no time.
Step By Step Guide On How To Cast Netflix From Phone To TV Without Wifi :-
The first way you can do so is by simply using your personal mobile hotspot in the place of a wi-fi connection.
To use this, you will need to switch on the 'Hotspot' from the notification bar or settings menu of your mobile phone.
Now, on your TV, go over to the Connections and add the password to connect the TV with your personal hotspot. Now, using this as the internet.
However, even though you will be able to access and stream Netflix, you will not be able to cast from your phone to the TV.
This is because casting is a wi-fi or internet dependent process that needs the two devices to be connected to the same internet network.
As alternative to casting, what you can try doing is mirroring the screen from your phone onto the TV screen.
This is a completely internet-free way. To do this, all you need are the appropriate cables that are compatible with your mobile phone and the TV.
You will need an HDMI/MHL cable for your TV and an HDMI/MHL adapter for your mobile phone.
Now all you need to do is switch on the TV screen and connect the cables in the appropriate ports of your mobile phone and then the TV.
After this, all that is left to do is switch over to the channel of HDMI to view the mirrored screen.
When all this done, the screen will begin to mirror the Netflix app that you can operate from the phone automatically.
Conclusion :-
This is how you can watch Netflix from your mobile phone on the TV screen and I hope this article on how to cast Netflix from phone to TV without Wifi helps you and the steps and method mentioned above are easy to follow and implement.