How To Cast Disney Plus To Smart TV
🕐 1 Jul 23
Disney Plus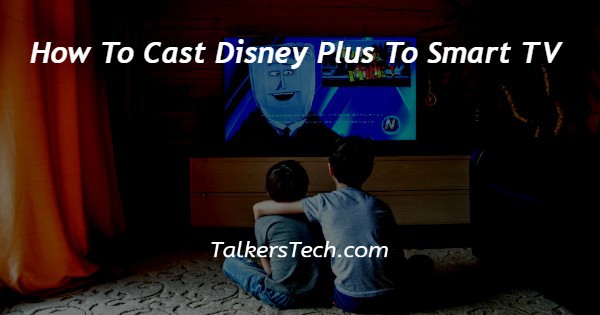 In this article we will show you how to cast Disney plus to smart TV, Disney Plus is one of the most popular online streaming platforms which provide movies and TV shows in different languages. It is also possible for the users to cast Disney Plus on smart TV.
When you cast Disney Plus on your TV, it will help to avoid the fluttering of cables. The casting of Disney plus it can carry smart TV out from your phone, tablet or computer through Chromecast.
Now this online streaming platform is mostly compatible with modern devices such as smart TV that include the Disney Plus application.
However, in case you are looking for a solution on how to cast Disney Plus on TV with the help of Chromecast this is the right article for you.
Step By Step Guide On How To Cast Disney Plus To Smart TV :-
First you need to set up your Chromecast.
Remember to connect the TV Phone or Tablet with the similar network.
Now you need to download the Disney Plus application on your Android smartphone or Tablet.
After successfully installing the application on the device, open the application and use your Disney Plus account credentials to proceed further.
You need to enter your valid email address along with your password to successfully log into your Disney Plus account.
Now search for the cast icon placed on the home screen.
A pop-up box will appear which will show the devices that are available for the casting.
Now in order to cast Disney plus to your smart TV you need to connect your smart TV from the list of the Chromecast devices.
Now look for the movie TV show or document that you want to watch on your Smart TV.
Once the selection of the movie, TV show or documentary is done an option of casting to the Chromecast device that your television will display on the screen.
Now it is connected to your smart TV and whatever you want to watch on the Disney plus will automatically start appearing on the big screen- your Smart TV.
Conclusion :-
I hope this article on how to cast Disney plus to smart TV helps you in this article we covered an essential guide on how you can cause Disney plus to smart TV using Chromecast.
The Chromecast Ultra is best for 4K streaming and it also offers Dolby vision.
You can also use Chromecast from mobile phones and tablets for Android running Android 6.4 or higher version.
For the iPhone it should run IOS 12.0 or the latest version and the steps mentioned above are quite detailed and easy to follow and implement.