How To Cancel Wynk Subscription
Last Updated : Jun 21, 2022
IN - Wynk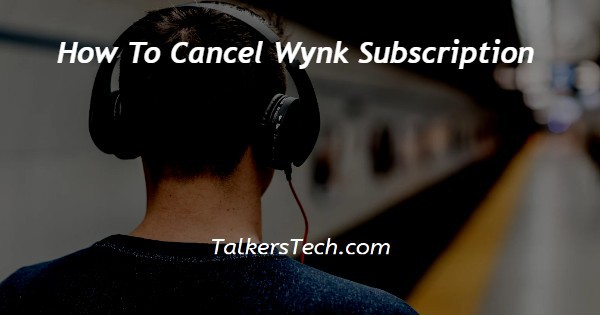 In this article we will show you how to cancel wynk subscription, the premium subscription of the Wynk music application provides various additional features.
These features include adding free music, which means there is no more interpretation, and you can download unlimited songs in the application that you can enjoy offline.
Some users may not prefer to continue with their Wynk subscription because of various reasons. You can easily cancel your Wynk subscription using the Wynk music application in case you do not find the premium services useful to you.
In case you are looking for a solution on how to cancel wynk subscription this is the right article for you just follow the steps given below in order to cancel wynk subscription.
Step By Step Guide On How To Cancel Wynk Subscription :-
By Using Play Store
First, you need to go to the Play Store on your Android device.
In case it does not log you into your Google account, enter your credentials to proceed further.
After verification, you need to click the menu placed at the top left corner of the screen.
The left side menu will show various options such as my app and games, notification, subscriptions, wishlist, account, payment methods, settings and others.
You need to click the options subscription from the left side menu in the Play Store.
Under subscription you need to click the option wynk music.
After clicking this application, the manage subscription page will appear in front of you, which will show you your plan details along with a primary payment method and the option to update along with cancel subscription.
Now in order to cancel the wynk music premium you need to click the option to cancel subscription placed at the bottom of the screen.
After clicking this option, A prompt box will appear in front of you which will ask you to select the reason for canceling your subscription for wynk music premium.
It provides various options such as technical issues, cause related reasons, I don't use this service enough; I found a better app, and others.
After selecting the reason for which you want to cancel the wynk music premium on your Android device click continue.
Now another prompt box will appear on a screen which will inform you it will cancel your subscription at the end of the billing period.
Click the option. Cancel the subscription to confirm the procedure.
Conclusion :-
I hope this article on how to cancel wynk subscription helps you and the steps and method mentioned above are easy to follow and implement.
In this article we covered an essential guide on how you can cancel wynk subscription on your Android device using Play Store.
Now you can easily terminate the Wynk subscription with the help of this article.