How To Cancel Ticket In Paytm
Last Updated : Sep 28, 2022
IN - Paytm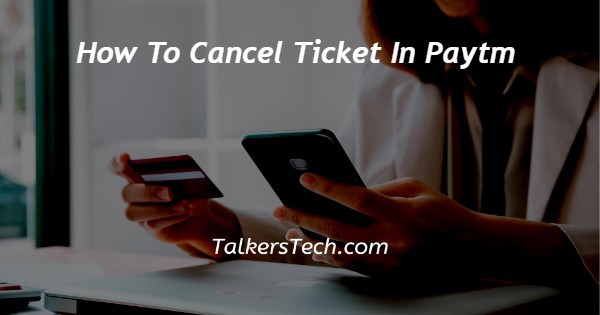 In this article we will show you the solution of how to cancel ticket in Paytm, Paytm users can easily cancel their flight, movie, train, bus tickets using websites as well as applications available for Android and iOS users.
There can be various reasons why a person wants to cancel a ticket such as a change of plan, getting a better deal, and others.
When you cancel ticket in Paytm it so you the exact amount that you will get in refund along with the cancellation charges if any.
In case you are looking for a solution on how to cancel ticket in Paytm this is the right article for you just follow the steps given below in order to cancel ticket in Paytm.
Step By Step Guide On How To Cancel Ticket In Paytm :-
Open the Paytm application on your Android device.
In case you are not logged into your Paytm account you need to enter your mobile number or Email address and password to proceed further.
Once you've successfully login into your Paytm account you need to click on the three horizontal lines placed at the top left corner of the screen.
The left side menu of Paytm will show various options such as my passbook, payment reminders, order and bookings, Digi locker, cashback and offers, profile settings, 24/7 help support, and Paytm postpaid.
Click the option my order in order to see the list of all the orders.
On my order page, you will see various categories such as shopping, travel, tickets, deals, and others.
Now you need to click the travel tab.
This tab will provide you all the booking that you have made using your Paytm account
Now in order to cancel your bus ticket you need to click on the booking with the bus icon.
When you click on this option you will see all the details about this ticket such as price, point of origin, destination, status and others.
Below all these details, you will see three options called cancel ticket, resend ticket, and download ticket.
Now in order to cancel a ticket in Paytm, you need to click on the option cancel the ticket.
Pop up box will appear on your screen which will inform you that in order to cancel your ticket from the point of origin to the destination the given amount would be deducted as cancellation charges.
Along with this it also informed that the given amount will be refunded to your Paytm cash.
With this information, you need to click the option, yes to proceed further.
Finally, you will get another pop-up box that will inform you that your ticket has been canceled successfully and you will receive confirmation through SMS and email.
Conclusion :-
In this article we covered and essential guide on how you can cancel ticket in Paytm on Android device.
I hope this article on how to cancel ticket in Paytm helps you and the steps and method mentioned above are easy to follow and implement.