How To Cancel Starz On Amazon Prime
🕐 1 Jul 23
Amazon Prime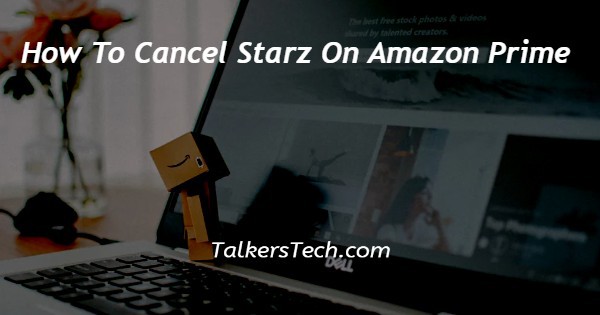 In this article we will show you how to cancel Starz on amazon prime, Starz is one of the most premium platforms that you can subscribe to with the help of Amazon Prime.
It includes a variety of original shows such as Outlander, classic comedies, Pro wrestling and others. It also provides a one-week free trial for its users so that they can check the monthly benefits after which they need to pay a subscription amount to carry on claiming the benefits of the Starz platform.
However, the subscription cost of stars is not sleep and you can anytime cancer it's free trial or also the long-term subscription on Amazon.
In case you are looking for a solution on how to cancel Starz on Amazon Prime this is a write-up for you.
Step By Step Guide On How To Cancel Starz On Amazon Prime :-
Open your web browser and login to your Amazon account.
Enter your credentials like your email address and password to sign into your Amazon account.
Click the option account and list placed at the top right corner of the screen.
On the next screen you will see various options for ordering and shopping preferences, digital content and devices, membership and subscription, communication and content, shop program, rentals and other programs.
Look for the membership and subscription column.
It will show various options named Kindle unlimited, Prime video channels, music unlimited, subscribe and save, your Essentials, free time unlimited and other subscriptions.
Click the option- Prime video channels.
Now again you need to login into your account.
After successfully login to your account you will see all the Prime video channels.
Under your channel select Starz.
It will show the renewal date and price along with the option of canceling the channel.
Click the option- cancel channel place the next two Starz.
Now it will ask you again if you really want to end your Star channel subscription.
Below this it will display three options named remind me three days before renewal, keep your subscription and cancel.
In order to cancel your subscription of Starz on Amazon Prime you need to click the option- turn off auto renew and watch until a specific date.
On the next screen it will ask you to choose a specific reason for canceling your Starz subscription.
Select the reason for canceling the membership as per your own convenience.
After selecting the reason you will be redirected to the Prime video channel page and your star membership will be canceled.
Conclusion :-
I hope this article on how to cancel Starz on amazon prime helps you and in this article we covered an essential guide and the steps mentioned above are detailed and easy-to-follow and implement.