How To Cancel Sent Friend Request On Facebook
🕐 9 Apr 23
Facebook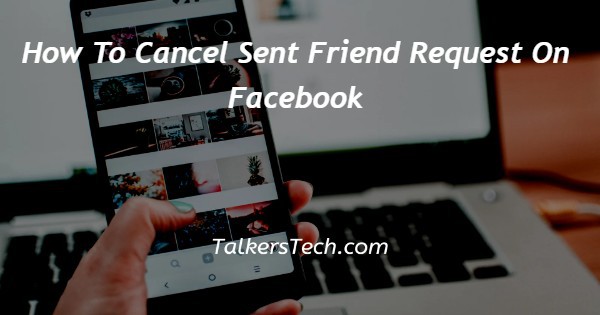 In this article we will show you the solution of how to cancel sent friend request on Facebook, you can easily cancel a sent friend request on Facebook using its application and official website available for desktop users.
Sometimes there is a possibility that you have sent a friend request accidentally to someone on Facebook and now you want to cancel it.
Facebook application and website provide the option of cancelling the sent friend request without sending any notification to the other user.
In case you are looking for a solution and on how to cancel sent request on Facebook this is the right article for you just follow the steps given below in order to cancel sent friend request on Facebook.
Step By Step Guide On How To Cancel Sent Friend Request On Facebook :-
On your preferred computer, launch a browser, such as Google Chrome.
The search bar must now be filled with the URL for the official Facebook website.
If you don't know the address of the Facebook website, you may also just search for "Facebook login."
To continue, enter your Facebook login information, including your email address and password.
On the left side of the Facebook homepage, you will find a number of options, including friends, groups, the Marketplace, watch, memories, saved, Reels, and see more.
Click the option friends from the left side menu to proceed further.
The left side menu of the friends tab will show you various options such as home, friend request, suggestion, all friends, birthdays and custom list.
Click on the option friend request to see the list of all the friend request you have received or sent from your Facebook account.
On the next screen You will see the total number of friend request that you have received at the top left corner of the screen.
At the bottom of this you need to click on the option called view sent request in order to see the number of request you have sent from your account on Facebook.
When you select this option, it will display each account's profile, the number of friends you share with each one, and the time at which you issued the friend request.
You only need to select the "cancel" option in the Facebook application to withdraw a friend invitation.
After that, the user won't be able to see your friend request on Facebook because the status will be changed to request cancelled.
Conclusion :-
In this article we covered an essential guide on how you can cancel sent friend request on Facebook using website on desktop. I hope this article solves your query.
The steps mentioned above are quite detailed and easy to follow. An individual can easily cancel the sent friend request without the other user on Facebook knowing about it.
I hope this article on how to cancel sent friend request on Facebook helps you and the steps and method mentioned above are easy to follow and implement.