How To Cancel Flipkart Order After Shipped
🕐 1 Jul 23
Flipkart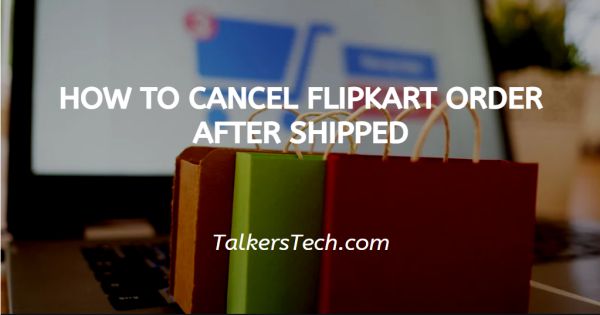 In this article we will show you how to cancel Flipkart order after shipped, almost everyone is aware about the online shopping app 'Flipkart' nowadays. It is one of India's biggest online shopping portal with more than 100 million of users.
One can easily get almost anything they want just by ordering it from the Flipkart app. Flipkart offers over 80 million products from all around India.

So one even gets a huge variety of products in Flipkart. One of the best things about Flipkart is their customer care support.

They resolves all your problems and replies to all your queries. They also provide a lot of options to their customers.

For instance, if you have order something from the Flipkart app but now you have changed your mind and you do not need that product anymore, then you even get an option of cancelling your order without paying any extra charges.

But in case your order has been shipped and now you want to cancel your order then you do not get the option of cancelling your order.

However, you can request the Flipkart Customer Care to cancel your order. For that you will have to follow the steps given below.
Step By Step Guide On How To Cancel Flipkart Order After Shipped :-
At first, open the Flipkart app in your smartphone.

And then log in to the account from which you have ordered the product that you want to cancel now.
When you open the Flipkart app the front page will appear. Click on the three horizontal line icon on top left corner of the screen.

The menu will then open up in which there will be many options. Among all the options you have to select the 'My Orders' option.

Then a new page will appear in which you have to select the order you want to cancel.
After selecting the order you want to cancel, a page will open up in which the delivery status of the product will be shown. Below that there will be a 'Cancel' option.
Click on that option.
The request cancellation page will then open up in which you will get a list of reasons for the cancellation of your order. Choose any option according to your reason.

And then click on 'Submit Request'.

Another new page will then appear which will assure you that your cancellation request has been confirmed.
Conclusion :-
You can even add any comments relating to your request in the comments box. However, it will be optional.

So this is how you request an order cancellation for a product which has been already shipped in Flipkart.

The rest depends on the Flipkart Customer Care Team, if they will accept your request or not. However, in most of the cases they accept the order cancellation request.

It also depends on how frequently you have been cancelling your orders. But if they do not find anything against you, they will accept the order cancellation request most of the times.

I hope this article on how to cancel Flipkart order after shipped helps you and the steps and method mentioned above are easy to follow and implement.