How To Cancel Amazon Prime On Phone
🕐 1 Jan 23
Amazon Prime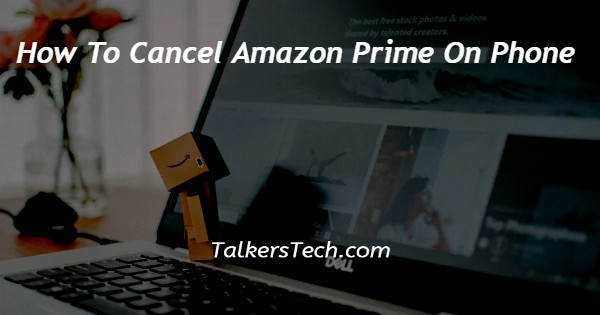 In this article we will show you how to cancel amazon prime on phone, amazon Prime is one of the most popular entertainment streaming platforms across the globe. With its monthly subscription users can get to see a lot of content such as movies, series, documentaries, TV shows and others.
The Amazon Prime membership brings various benefits to the users such as free one day and two-day delivery on certain products, access to Prime video and Prime music, reading electronic books, comics and others.
However, if you change your mind and want to cancel your subscription, the company also provides easy options to cancel your prime subscription from the application and website.
In case you are looking for a solution on how to cancel Amazon prime on the phone this is the right article for you.
Step By Step Guide On How To Cancel Amazon Prime On Phone :-
Open the Amazon shopping application on your Android device.
You do not need the Amazon Prime application. You can easily change the prime account setting with the help of Amazon shopping application.
In case you are not signed in to your account you need to enter your Amazon account credentials to proceed further.
After successfully logging into your account click the three horizontal lines placed at the bottom right corner of the screen.
A new page will display in front of you which will show different shopping categories.
Scroll at the bottom of the page and you will see various options named orders, buy again, account and list.
Click the account setting from the bottom page.
Under the account setting look for the manage Prime membership.
Click the arrow at the right end of this option.
On the next page you will see your membership info along with your benefits such as free fast delivery, Prime video, Prime music and others.
At the bottom of your profile name click the option manage membership.
It includes a downward arrow which will open another drop-down list.
The drop down list includes three options showing your prime plan, membership ending and manage membership.
Click the option manage membership.
Here you can update, cancel and more with your prime member account.
On the new page you will see the option of end membership.
In order to cancel Amazon prime on the phone click the and membership option.
This will end all the benefits of Amazon prime on your Android device.
Conclusion :-
I hope this article on how to cancel amazon prime on phone helps you and in this article we covered an essential guide and the steps mentioned above are quite detailed and easy to follow and implement.