How To Cancel Amazon Prime On App
Last Updated : Dec 4, 2021
IN - Amazon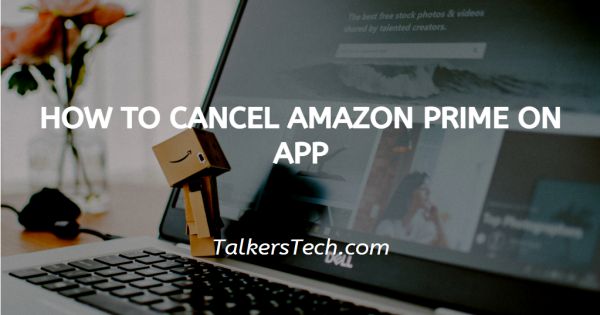 In this article we will show you how to cancel amazon prime on app, a user can and his or her Prime membership anytime by clicking the Amazon website on computer or app available on the smartphone.
The steps for the translation of Amazon Prime membership is very easy. The prime membership provides various benefits like free one day and two-day delivery, no minimum order requirement for free delivery.

Prime membership also includes other services like Amazon Prime music Prime video Prime reading it offers same day delivery to some of the eligible address for the prime members.
Step By Step Guide On How To Cancel Amazon Prime On App :-
Install the Amazon app on your phone. In case it does not log you in to your account simply enter your valid details along with your password.
Click the three horizontal lines placed at the bottom right side of the home page.
It will show you various options like Amazon pay, Mini TV, prime, gifting, deal, and savings.
Click the option Prime. Here you will see three applications of prime named- prime, prime video, And Prime music.
Click the first application- prime.

Click the prime title which is placed at the top left corner of the screen.
Under Prime, a drop-down menu will appear which will show two options named- manage my membership and help.
Click the first option- manage my membership.

Click - manage membership drop-down menu.

Under manage membership, you will see the details for the prime plan, renewal date, and manage membership. this page also shows your membership info regarding the benefits, Terms, and conditions.
Click the option- manage membership. It provides you with various options for update cancel and more.

After clicking this option a new page will appear on your screen which shows you the renewal date along with the reminder. It also informed that a reminder email/ SMS will be sent to you on the specific date of the renewal.
The second option is end membership. It informs that by ending your membership you will lose access to all your prime benefits. Confirm the cancellation of membership by hitting the End membership button. After canceling your prime membership the user can no longer get any exclusive offers and services like Prime Video and Prime music.
Conclusion :-
I hope this article on how to cancel amazon prime on app helps you in this article, we covered An essential guide and the steps mentioned above are quite detailed and easy to follow. I hope this article solves your query.