How To Cancel Amazon Order After Shipped
🕐 1 Jul 23
Amazon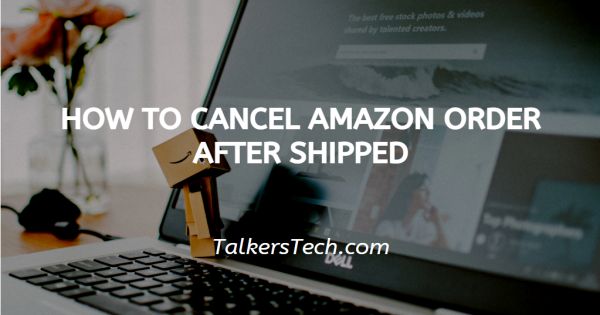 In this article we will show you how to cancel amazon order after shipped, amazon is one of the biggest ecommerce markets. They have numerous products listed under them with millions of consumers trusting them to give them the required product at an efficient price.
The festive and seasonal sales that happen on amazon definitely turn in more customers. It is an important time of business for them.

But oftentimes people realize they don't need certain products or have placed an order for the wrong item. Then the consumer wants to cancel the order on the app. But the process of cancellation is not that simple.

One needs to know the correct steps for cancelling at different stages of delivery. Today we will discuss the steps for cancelling orders after it is shipped. The steps for cancelling such order is as follow:
Step By Step Guide On How To Cancel Amazon Order After Shipped :-
Log in to your amazon account.
Go to the returns and orders section of the platform.

Under the your order section, you will see the order that you have placed. It also shows you a button clicking on which, you can also track your order. There will also be the option to request cancellation.
Click on the request cancellation tab present on the screen. It shows you a pop up page with a warning informing you about the cancellation of all items that have been shipped for you with this.
Click on the save button shown in the pop up below the message.

In the next page that opens up, you see a message that cancellation request is pending. It is so because once the order is shipped, amazon requests the carrier to cancel the product. So amazon informs us based on the information they receive.

Once the order is canceled, you get a mail as well as a message from amazon confirming the cancellation of the order. They also inform you that you will get your refund within 5 to 10 working days.
Conclusion :-
Once you have received the mail then just wait for the refund that amazon will give you. If it was a cash on delivery product (COD) then you will not receive any refund.

It is an easy process with some steps. Just follow the steps mentioned above and you can easily cancel your order even after it is shipped.

But you have to be careful that there are certain items that cannot be canceled once it's shipped. So, you will not be able to apply the steps for those items.

I hope this article on how to cancel amazon order after shipped helps you and beneficial for you and the steps given above will help you to cancel your orders in Amazon after getting shipped.