How To Buy Netflix Subscription With Google Pay
🕐 9 Apr 23
Google Pay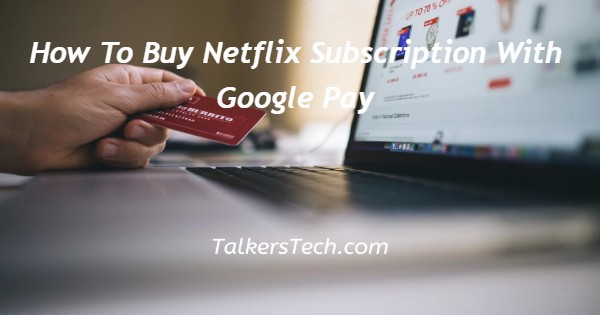 In this article we will show you how to buy netflix subscription with Google Pay, Google Pay users can easily get a Netflix subscription and can make payments with the help of applications available for Android and IOS users.
To sign up for Netflix on password, you need to know the email address and password for your Netflix account and then you can easily watch The Great content provided by Netflix.
Netflix provide various options for payment such as credit or debit card and u Pi auto pay.
In case you are looking for solution on how to buy Netflix subscription with Google play this is the right article for you just follow the steps given below in order to buy Netflix subscription with Google Pay.
Step By Step Guide On How To Buy Netflix Subscription With Google Pay :-
Open Google Chrome or any other Browser on your Android device.
Type Netflix in the search bar
Now click on the official website of the next place to proceed further.
The homepage of Netflix will provide you two options at the top right corner of the screen: language and sign-in.
Now in order to create a new account in Netflix you need to enter your email address and click the options get started.
After entering your email address click the option- finish sign up.
It will ask you to choose your plan from the following option.
Click the option next.
It will show 3 service options named basic standard and premium.
You need to select the plan at your own convenience..
After selecting the type of plan that you want to sign up for Netflix you need to create your account by entering your email address along with a new password.
After that, just click register and select a payment option.
In the setup your payment page it will show you two options called credit or debit card and u Pi auto pay.
Click the option u Pi auto pay.
On the next screen it will display you information regarding how to enter your upi ID.
Now open Google Pay application and under your profile setting you will see your upi ID.
Once you copy this Id you need to go back to the Chrome and paste the ID.
Now you need to go to the Google Pay application and approve the pending request from Netflix.
Once you approve the request it successfully purchased your Netflix subscription.
Conclusion :-
In This article we covered an essential guide on how you can purchase Netflix subscription with Google Pay.
I hope this article on how to buy netflix subscription with Google Pay helps you and the steps and method mentioned above are easy to follow and implement.