How To Block Number In Truecaller
🕐 1 Jul 23
Truecaller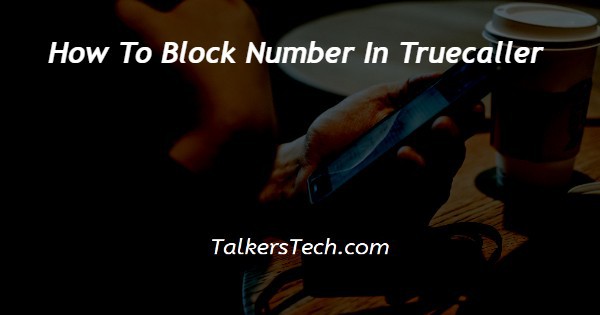 In this article we will show you how to block number in Truecaller, Truecaller is very helpful in identifying the spam calls that have reached at its peak over the past few years.
Spam calls or unwanted calls from your knowns can be very irritating. However Truecaller provide an easy feature to block a specific number.
When you block the unwanted or spam calls you can focus on the other important calls easily.
It is very simple to use the Truecaller application in order to block the numbers on a Android smartphone. Either you can use the spam option in the Truecaller application or the block option to get rid of a specific number.
In case you are looking for a solution on how to block number in Truecaller, this is the right article for you just follow the steps given below in order to block number in Truecaller.
Step By Step Guide On How To Block Number In Truecaller :-
Open the Truecaller application on your Android device.
In case you are using the application for the first time and SMS will be sent to you on your number in order to verify.
After verification, you will see five tabs placed at the bottom corner of the screen of the Truecaller application.
These tabs are are calls, messages, contact, premium and blocking.
In case you want to block a number manually in Truecaller click the last option named blocking placed at the bottom right corner of the screen.
This page will show premium block in options along with block someone manually and block settings.
Look for the option block someone manually.
Under this you will see four options name phone number, message sender name, country code and number series.
Click the option phone number under block someone manually.
On the next screen it will ask you to enter the region along with the number and name that you wish to block on Truecaller.
You can also save the number according to the business type or person.
After entering the number along with the name you need to click the auction block placed at the bottom of all the text field.
In this way you can easily block any number manually in Truecaller.
Conclusion :-
I hope this article on how to block number in Truecaller helps you and in this article we covered and essential guide on how you can block number in Truecaller on Android device.
The steps mentioned above are quite detailed and easy-to-follow.
This article highlight the steps for manually blocking of a specific number in Truecaller.
Now you can easily get rid of unwanted call from the unknown person or spam call that you find annoying.