How To Block Inappropriate Websites On Google Chrome Android
🕐 9 Apr 23
Google Chrome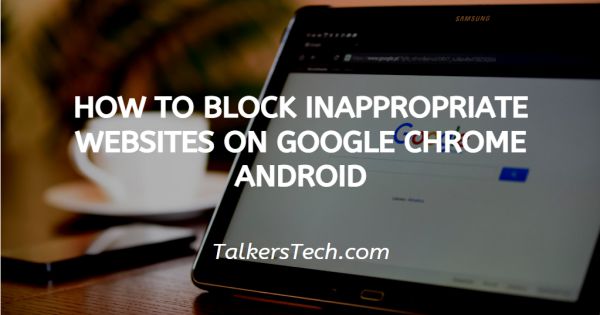 In this article we will show you how to block inappropriate websites on google chrome android, mostly we use Google Chrome for surfing the web on our Android devices, and sometimes we get to see a few unnecessary websites on our devices and we might need to block those certain websites.
There may be several reasons for which we need to block those websites on our mobile phones like some websites can harm our devices by spreading viruses in our devices.

There are also some websites which try to steal our personal information like our bank details, personal data and many other important data.

Some of them show adult videos and pictures in it which is not good if it comes in children's hands or any other person's hand.

And it can also be your own personal reasons to block any websites.

For Android you can get many apps for blocking websites and apps on your device.

But I would like to suggest to you the best "Block site" app.

You will find it in google play which is also known as PLAY STORE. This is a kind of store where you will get all types of apps like gaming, fashion, informative, online payment etc. Here you get apps for free and paid both.

Search block site app on the search column of the play store and then download it. Once the app gets downloaded, install it and launch the app on your android. After installing the app icon will start showing on your mobile menu.

Now here are the steps to block websites for the downloaded app "Blocksite"
Step By Step Guide On How To Block Inappropriate Websites On Google Chrome Android :-
Download BlockSite

At first after launching the app, it will ask to enable accessibility, and then it will take you to your phone settings, you will get all the setting lists including block site setting.
You will have to enable the app and allow this app to fully control your browser and block the unwanted website.
The app will pop-up and ask you to operate and will ask for permission to block the website you will have to confirm by clicking ok.
Tap to the green "+" icon on the bottom - right hand corner of your website screen. After this you will directly go to the page where you can block websites or you can block mobile apps by entering the name of each into the search bar.
Now select the "website" or "app" to block the content you want.

Now you have to enter the full URL of the website or app which you want to block and then you will see a green checkmark on the right - top corner of your website screen is becoming available.
Then you have to tap it after that you will see the website is successfully blocked on your Android device.
On the next screen you will get the option to edit or remove websites or apps from your block list which you have added can be removed anytime.
Conclusion :-
I hope this article on how to block inappropriate websites on google chrome android helps you and now you can easily block the inappropriate websites on google chrome android.