How to backup WhatsApp chat in Jio phone
🕐 1 Jul 23
Whatsapp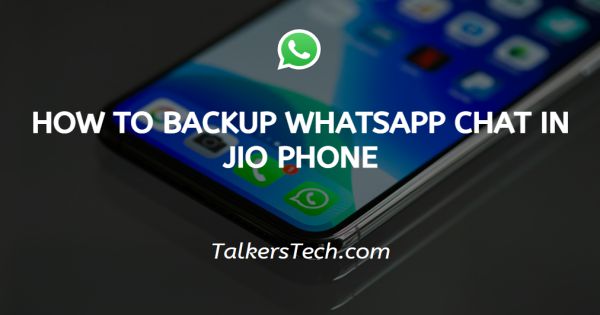 If you see the message in your WhatsApp chat like: "message was deleted" so it is very easy to recover, when we use android smart phone but now we discuss about reliance Jio phone, in this article we will show you how to backup WhatsApp chat in Jio phone.
It is not android based phone it is a kaiOS application based phone so both process are different to backup the WhatsApp chat.

We all know that Jio has launched its smart phone in Indian market and is known to be one of the best 4g phone in a cheap price. Though the phone is not a touch screen but it has all the features that one smart phone has.

Its storage is 4gb and 512 mb ram and many features are their but one thing is really trouble users is the data stored on their phone, and if such situation occurs then what to do and how to get back the photo, message, and text at all.

Many of them reported about their data loss situation and they want to know how to backup my delete WhatsApp messages or file from Jio phone. So let's go through this article and find out, how to backup WhatsApp chat in Jio phone, let's start the process, and follow the given step which is given below:
First you have to go the WhatsApp app and click on the option icon.
Then tap on setting option,
After that you have to click on the account option.
After clicking the account option there will be opened a window with many options, you have to scroll down the arrow and click on the "request account info" option.
Then you will see the message on your device "request sent",
After sending a request you will get your backup chat on your Jio phone.
But there is one more thing to know all Jio users after sending request you have to wait for your backup chat minimum three days, within three days you will get back your chat as well as video and images.
Conclusion :-
I hope this article on how to backup WhatsApp chat in Jio phone will fulfill your desire and you can easily recover your WhatsApp chat in Jio phone without any third party app.