How To Adjust Brightness In Windows 10 Using Keyboard
🕐 1 Jul 23
Windows 10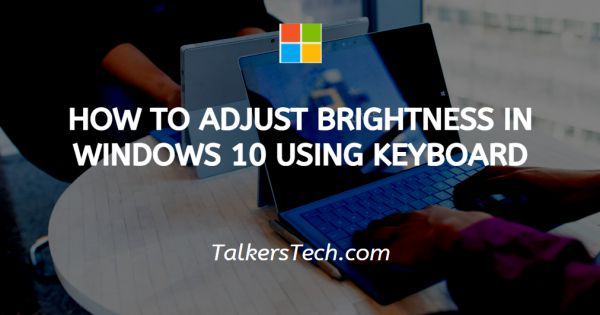 In this article we will show you how to adjust brightness in windows 10 using keyboard, you may not even think about the light intensity of your computer screen. However, it is critical for the health of your eyes.
We'll show you how to use the available controls in Windows 10 to adjust the screen brightness.

It's a simple task to adjust the display settings on a new computer. If you're experiencing eye strain or headaches, it's possible that the display brightness is to blame.

It's simple to manually or automatically adjust the levels based on battery life, power plan, or ambient light.

Knowing how to increase and decrease the light intensity on your Windows 10 computer or mobile device can be useful if you spend too much time on it.

When using a laptop or tablet, this setting is especially important because, depending on whether you are indoors or outdoors, you may need to adjust the display's brightness to match your surroundings.

Nearly everyday, people might spend countless hours next to a laptop, which might create chromatic aberration if the display brightness isn't adjusted properly.

To lower the effect of the brightness , you can adjust the brightness on your Windows 10 PC. On Windows 10, the following Solution will help you control screen brightness.

There are particularly unique keys on some keypads that allow you to easily adjust the brightness.
Step By Step Guide On How To Adjust Brightness In Windows 10 Using Keyboard :-
Most desktops have appropriate shortcut keys that allow you to increase or decrease the illumination. They can be F1 to F12 in specific.
Simply press the keys on your laptop keyboard that have a sun like symbol on them.
You can adjust the screen brightness on an HP laptop by pressing the F2 and F3 keys.
The keyboard shortcuts Fn + DEL and Fn + Backspace can be used to increase and decrease the brightness on Surface Pro devices.
The key combination Fn + F11 lowers the brightness and Fn + F12 raises it on Lenovo laptop running Windows 10.
Conclusion :-
Significantly reducing the screen's light intensity helps conserve and extends the battery life of your device.

Windows 10 has a configuration for smartphones and desktops that adjusts the brightness of your screen depending on the Energy mode that you're using.

To use this feature, go to Battery settings by clicking or tapping on the Power icon in the system tray on the right side of the taskbar.

You can be more efficient and concentrated if you understand how to adjust the brightness.

A screen which is either too bright or too dark might strain your vision and leave you feeling uneasy. I hope this article on how to adjust brightness in windows 10 using keyboard helps you.