How To Add To Document Outline Google Docs
🕐 1 Jul 23
Google Docs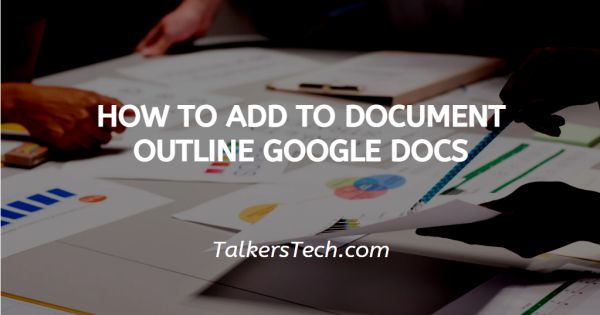 In this article we will show you how to add to document outline google docs, Google docs is one of the most widely used tools to create documents for both personal and professional purposes.
It is used by students for their assignments and projects, by teachers and professionals to create formal presentations, notices, documents, contracts, etc.

It offers a wide ambit of features and tools that allow one to change and customize the display of the content. You can change the font color, size, etc., add images, tables, on and on.

It is a document creating tool preferred over MS Word for several reasons, one of the most prominent being its auto-saving feature. Thus, if you close the document without saving it, none of your work is lost! Isn't that wonderful?

It is always a great idea to have a document outline while structuring a document.

In this article, we will see how this can be done in Google docs. Follow the steps as explained in the points below and you will be done in just no time.
Step By Step Guide On How To Add To Document Outline Google Docs :-
Open your laptop, PC or mobile phone. Now there are two ways to open Google docs.
One way is to access it via the Drive. In the alternate case, you can click on the 'Grid' icon at the top right corner of the home page of Google web browser.

In the next step, you will be asked to either open a blank document or a pre-existing one.

Now, on the main page, you will be able to see a panel of several tabs. These tabs contain the rich ambit of features and tools offered by Google docs, organized in separate categories.
From this panel, click on the 'Tools' icon from the panel at the top. From the drop-down list that opens, click on the 'Document outline' option by hovering over the option. As soon as you do this, the outline will be displayed on the left side of the page.

In the document outline panel, you will be able to see all the outlines listed. It is important to note here, that you can customize the default document outline, like add or remove headings, closing the document outline, etc.
Conclusion :-
This is how you can add a document outline in Google docs in just a few quick and easy steps. I hope this article on how to add to document outline google docs helps you and the steps and method mentioned above are easy to follow and implement.