How To Add Text Box In Google Docs On Phone
Last Updated : Mar 10, 2022
IN - Google Docs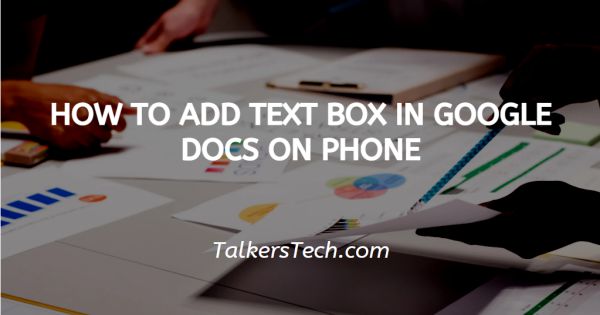 In this article we will show you how to add text box in google docs on phone, Google docs is a tool used by professionals all over the world. It is used by teachers to assign projects, make reports, etc. It is used by students as well.
Most of the corporate houses use Google docs to make official documents, presentations, etc.

It allows you to make your document wholesome and professional with the help of its various features and tools like the option to add text, images, etc.

You can also add text boxes to your document just like in MS Word.

In today's age and day, all tools have a mobile app that makes it easier for the users to access them on the go.

In this article, we will see how you can add a text box in Google docs on phone. Please note that there is no direct way to add a text box, but there is a way around it that gets the job done.
Step By Step Guide On How To Add Text Box In Google Docs On Phone :-
The first thing that you need to know and understand is that in order to use any of the Google apps, like Google docs, Sheets, Slides, etc., it is necessary for you to hold an active Google account.
Thus, in case you don't already have an e-mail address registered with Google, go over to Gmail and sign up to create an account in just a few minutes.
Now, on your iPhone, go over to the Appstore.
Appstore is the same app as Play store in android phones.
It comes pre-installed with a device and allows you to download apps on your mobile phone.

In your Appstore, simply enter the name 'Google docs' in the Search bar.
Once that is done, click on the 'Enter' button on the keyboard.
This will begin downloading the Google docs app on your iPhone device.
Now once the download and installation is complete, simply go to the Google docs app and log into your account by simply entering your registered Google e-mail address and other personal details.
Click on the '+' icon at the top. This will open a menu on the screen with several options.

From here, choose the 'Table' icon.
Against the Columns, tap the down arrow to decrease the number of columns to 1.
To the right of Rows, click on the down arrow to decrease the number of rows to 1.
Once all that is done, click on the 'Insert Table' icon.

Finally, you will be able to display a one-cell table into which you can enter text.
Conclusion :-
I hope this article on how to add text box in google docs on phone helps you and the steps and method mentioned above are easy to follow and implement.