How To Add Restaurant In Swiggy
🕐 1 Jul 23
Swiggy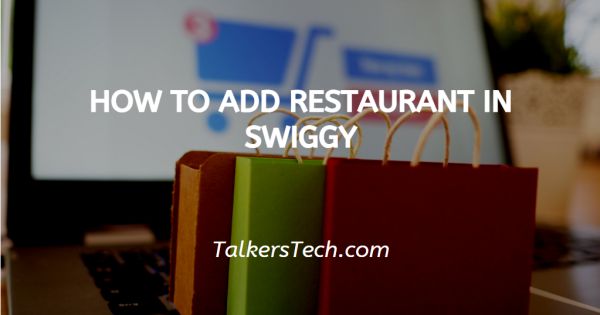 In this article we will show you how to add restaurant in Swiggy, as the number of people ordering food online is increasing day by day, Swiggy is one of the best choices for customers to order their favourite food online.
If you are planning to add restaurants in Swiggy, follow the step-by-step guide on how to add restaurants in Swiggy mentioned below.

Today's time, people are really lacking time and have become more lazy to do any kind of extra work. In a situation like this always plays a very crucial role in everyone's life.

Help the working professionals and students who face hunger pangs during work hours and it also delivers food within a brief period.

Note - Before adding a restaurant in swiggy, you must have your permanent address of the restaurant with all the necessary documents in hand.
Step By Step Guide On How To Add Restaurant In Swiggy :-
Go to Swiggy.com. An option will appear as "Partner with us" and you need to fill in all the required details. (Once you open the website, an option on the footer will appear as 'Partner with us'. After this, fill up all the details.)

In this step you need to fill in all your basic information like: Restaurant name, ZIP, City, Location, Contact number and Email

After submitting all the necessary details, a fresh box will show on your screen which requires more information. As shown in the picture below it will ask you whether you want to share more details.

If you choose the yes option, you need to fill in all the details which are asked and then click on submit. The image given below informs that when you choose the yes option, All the details for partnering will occur, otherwise when you say no it appears as a Thank you for sharing details or will reach you out soon.

In this Step, you need to submit the required documents. Before adding a restaurant in swiggy you need to collect a hard copy of all the documents that are mentioned below. You need to make sure that the documents you are presenting are all legal. Document showing FSSAI registration, Proprietor details, Tax details, GST, registration copy, Partnership PAN card, A cancelled cheque.
After providing all the legal documents you will get in touch with one of their officials for further process and agreement of the partnership.

Note- This whole procedure of adding a restaurant in Swiggy might take two to three weeks and after that you will receive a notification after the verification procedure is done.
Conclusion :-
I hope this article on how to add restaurant in Swiggy helps you and the steps are quite easy to follow. it is essential to have a presence on this online ordering platform it not only minimises your effort but also assists you to establish yourself as a brand.