How to add profile picture in WhatsApp group
🕐 1 Jul 23
Whatsapp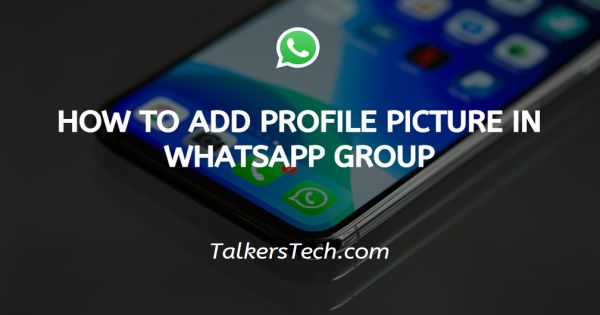 Now WhatsApp is a very popular app all over the world, its feature also impress anyone and day-by-day WhatsApp is growing with their plane and features one of the very interesting features today in this we will discuss how to add profile picture in WhatsApp group.
As we all know the WhatsApp group and for sure, we all have even single WhatsApp group in our WhatsApp account, it can be our family, friends, colleagues, or any other business purpose, you can chat with many people at once on WhatsApp group and created an unlimited group has more than one admins, only admin has a power to remove or add participants from WhatsApp group.
How to add profile picture in WhatsApp group
Any of WhatsApp group admin can easily add or change group profile picture and group subject within a few minutes. Below are few easy solutions to add or change group profile picture in latest version of WhatsApp.
First open the WhatsApp on your mobile phone and go to the "WhatsApp group" that you want to add or change the profile picture or icon.

Then click on the "WhatsApp profile picture".

Then tap on pencil icon which is top right of the corner.

Now you can see below option on your mobile phone like: gallery, from your android device like: camera and all other folders, from search web option.

After that you can select any one option from above then tap on the selected WhatsApp group icon or image.
Then tap on "ok" to change or add group icon or image.
Conclusion :-
Apart from that you can also know how to add participants, how to create group and how to make admin in WhatsApp group and invites to WhatsApp group via link and so on, there are many features in WhatsApp for paying attention on it.

I hope you can easily understand the process of changing profile picture in WhatsApp group and this article on how to add profile picture in WhatsApp group helps you